Printer-friendly version
Email this CRN article
No. 2: HONEYWELL INTERNATIONAL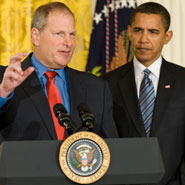 David Cote, Chairman and CEO
Citing the "incredible fear" gripping the markets, Honeywell Chairman and CEO Cote's message regarding ARRA was simple: "Needs to get done fast," Cote said at a press gathering after the Jan. 28, 2009, meeting with President Obama that he attended as well.
"We have to get this thing done quickly and get it out there. A lot of people have said it and I think it is absolutely right: We can't let the perfect be the enemy of the good. We need to start investing for our future. We very much appreciate an aggressive approach here and think it makes a lot of sense: getting money out fast to people who will spend it."
Honeywell was awarded $238 million in ARRA funding on 173 awards, according to the Recovery.gov database. The awards came with Honeywell spending $23.88 million in lobbying expenditures during the Obama administration.
Honeywell's U.S. employee population, meanwhile, dropped 9 percent from 58,000 as of Dec. 31, 2008, to 53,000 as of Dec. 31, 2011, according to Honeywell reports.
Among the Honeywell awards listed on the Recovery.gov website: a $27.2 million award from the Department of Energy intended to help Honeywell "become the first U.S. supplier of high-purity lithium hexafluorophosphate (LiPF6)," a critical component used in lithium ion batteries -- aimed at establishing a secure domestic supply for the "critical material in the Electric Drive Vehicle supply chain;" a $3.85 million award from the Department of Energy related to developing and demonstrating "a High Temperature Downhole (HTD) Directional Drilling (Navigation) Instrument Supporting the DoE (Department of Energy) Geothermal Technologies Program and the American Recovery and Reinvestment Act (ARRA) Goals and Objectives By: Creating And Retaining American Jobs;" and a $7.0 million award from the General Services Administration that "provides for the implementation of Energy Conservation Measures (ECMs) with progress payments made from ARRA funds."
The Honeywell awards came with Cote listed as having 22 appointments on the White House visitor's log, including a Feb. 4, 2010, Super Bowl party and a Feb. 22, 2010, state dinner, according to the White House visitor's log.
NEXT: IBM
Printer-friendly version
Email this CRN article