Printer-friendly version
Email this CRN article
NO. 3: JOHN DOERR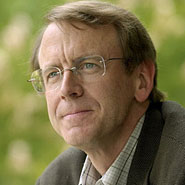 John Doerr
Doerr's storied investing career as a partner with Kleiner Perkins Caufield & Byers reads like a who's who of some of the best and brightest technology investments of the late 20th and early 21st centuries, ranging from Compaq and Symantec to Amazon and Google.
By 2008, however, Doerr was focused squarely on the green investing opportunity and he was looking for some help from the federal government.
Calling energy "the challenge of our generation and the scourge of the economy," Doerr's advice for the new president at the Web 2.0 Summit in San Francisco just hours after Obama was elected was to make renewable energy the No. 1 policy initiative. "The most important thing he has got to do is kick-start a huge amount of innovation and research in energy," said Doerr.
"We invest less than $1 billion a year in renewable energy research," said Doerr, an Obama supporter who donated $4,600 to the Obama Victory Fund in August 2008. "That is contrasted with health care, which is $32 billion."
Doerr got his wish. The Obama administration has made green energy funding a top priority that has benefited venture capital companies like Kleiner Perkins and general partners like Doerr himself.
What's more, Doerr has become a key adviser to the president. He sat on both the President's Economic Recovery Advisory Board and the President's Council on Jobs and Competitiveness.
It is hard to pin down exactly how much in total Kleiner Perkins-backed companies have received in government funding through loans, contracts, awards and even tax credits. But here are seven Kleiner Perkins-backed companies and the money they were awarded, according to a review of the Recovery.gov website:
Amyris, an Emeryville, Calif., renewable energy provider, was awarded $24.34 million and reported 341.24 jobs, according to the Recovery.gov website.
AltaRock Energy, an energy production company based in Seattle, was awarded $28 million. So far AltaRock has received $6 million and reported 88.73 jobs, according to the Recovery.gov website.
Primus Power, a Hayward, Calif., smart grid storage company, was awarded $16 million. Primus reported 85.73 jobs on $3.34 million funds received on a $22.89 million award.
Aquion Energy Inc., an energy storage technology company based in Pittsburgh, Pa., was awarded $10.35 million.
FloDesign Wind Turbine Corp., a wind turbine maker based in Waltham, Mass., has received $8.32 million in funds as a subrecipient of funds that went to FloDesign customers like Western New England College.
Agrivida, a Medford, Mass., company developing crops to make renewable energy, was awarded $4.56 million.
Transphorm, a Goleta, Calif., maker of electric power conversion modules, was awarded $2.95 million. So far Transphorm has received $1.9 million in funds and reported 17.66 jobs, according to the Recovery.gov website.
NEXT: John Doerr Continued
Printer-friendly version
Email this CRN article