Printer-friendly version
Email this CRN article
NOS. 1 AND 2: GOOGLE FOUNDERS LARRY PAGE AND SERGEY BRIN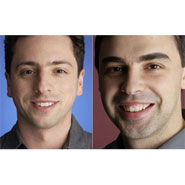 Larry Page and Sergey Brin
Five years ago, Google founders Page and Brin declared that they were prepared to invest hundreds of millions of dollars to develop clean energy that would not only be good for the environment but would also reduce the company's soaring data center power bills.
Brin even held out the possibility that licensing fees from the ventures could be a new source of revenue for the company, while at the same time insisting that the goal wasn't to make a big profit.
Today, Google said it has invested more than $915 million in renewable energy. A number of those Google clean energy investments have benefited from ARRA.
Besides the ambitious Ivanpah project, among the other Google-backed clean energy ventures that have received ARRA funds are:
AltaRock Energy, the same energy production company that Kleiner Perkins invested in, which was awarded $28 million.
SolarCity Corporation, a San Mateo, Calif., national clean energy services company, which has been awarded $11.02 million.
Makani Power, an Alameda, Calif., airborne wind energy company, which has been awarded $3 million.
Potter Drilling, a Redwood City, Calif., company focused on hard-rock drilling technologies. Page and Brin refused to comment on the impact ARRA has had on the company, themselves, how many jobs have been created at Google-backed companies as a result of ARRA funds or the impact of the legislation on the overall economy.
"As is common with all major renewable energy projects in the U.S., the projects and companies we've invested in have involved various government incentives," said a Google spokesperson in an email reply to CRN. "We are not involved in efforts by these companies and projects to secure those incentives. We believe the incentives currently in place are important in driving private investment to advance the clean energy industry, and transform our economy away from fossil fuels. We're proud of the investments we've made and hope they encourage further development and deployment of clean, renewable energy."
The ARRA funding has come with Google's lobbying expenditures more than doubling from $4 million in 2009 to $9.79 million in 2012 with one-quarter remaining, according to the Center for Responsive Politics. The company's 2009 lobbying included five reports related to ARRA including lobbying on "renewable energy policies including investment in solar, wind, and enhanced geothermal technologies, federal energy standards and incentives, electricity grid upgrades (Smart Grid), and provisions to accelerate the commercialization of plug-in vehicles, including in relation to H.R. 1: American Recovery and Reinvestment Act of 2009," according to a filing on the Center for Responsive Politics.
For the last four years, Google has spent $26.83 million in lobbying expenditures, according to the Center for Responsive Politics. Google's Political Action Committee (PAC) is also on the rise. Google's PAC spending has soared from $287,836 in 2008 to $810,679 so far in 2012, according to the Center for Responsive Politics.
Google executives, meanwhile, have gotten a lot of face time at the White House according to a review of the White House visitor's log. Former Google CEO Eric Schmidt is listed on the log with 18 appointments, and former Google Director of Climate Change and Energy Initiatives Dan Reicher is listed as having eight appointments at the White House.
Finally, Google employees were strong contributors to the Obama campaign in 2008 and are doing the same in 2012. In 2008, Google employees and their families themselves or through the company's PAC contributed $814,540, according to the Center for Responsive Politics. So far in the 2012 campaign, that contribution number is $526,009, putting Google employees as the third biggest contributor in the form of employee donations, according to the Center for Responsive Politics.
Brin, meanwhile, is listed as contributing $35,800 to the Obama Victory Fund 2012 on Oct. 4, 2011, along with a $5,000 contribution to Obama For America on the same day and a $30,800 contribution listed to the Democratic National Committee, according to a search of Federal Election Commission records. Page is not listed as an Obama contributor in a search of Federal Election Commission records.
Both Brin and Page have increased their net worth during the Obama years. Brin had a net worth of $15.9 billion in 2008, while Page's net worth was estimated at $15.8 billion, according to the Forbes 400 list of richest Americans. On the 2012 Forbes 400 list, both Page and Brin's net worth is listed at $20.3 billion each.
Printer-friendly version
Email this CRN article