Printer-friendly version
Email this CRN article
Video has become an increasingly powerful part of overall marketing strategies and is a key part of any marketing playbook. Tactically, online video is an important part of marketing planning and budgets and is directly responsible for success in driving brand awareness and sales.
Eighty-five percent of U.S. Internet users view online video, and by 2014 online video will account for over 50 percent of all Internet traffic, according to Cisco. YouTube alone averages 4 billion hits each day. By 2016, two-thirds of the world's mobile traffic will be from video, Cisco forecasts. You Tube reports 300 million views from mobile devices every day. Online video marketing has become the No.1 area where marketers plan to increase investment.
The use of video as part of your marketing playbook will assure reaching a wider audience and increase your marketing impact. Video provides higher retention of content and, in my experience, generates more interest among prospects and customers seeking follow-up information. As a tool, video enables sales and technical professionals to state the value proposition with a clear and simple message. In my experience, click-through rates for email marketing increase dramatically when video is part of the mix.
A marketing team I led at Denali Advanced Integration used video and learned firsthand how it can lead to new opportunities to sell and educate customers on a unique message and value proposition. The power of video reinforces the fact that a "picture is worth a thousand words."
Two videos my team created demonstrate how we positioned a local regional VAR into one of the most recognized VARs in North America. The first video describes the local community response to our donation of technology products and engineering services that enabled a quadriplegic to have more independence and a higher quality of life. HP honored Denali Advanced Integration and its CEO, Majdi Daher, for community service for their work with the Todd Stabelfeldt Foundation.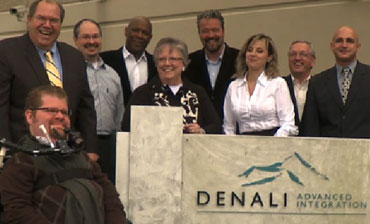 Click to watch the video.
The marketing result was tremendous from both the local IT community and technology sales channel support perspectives. One of our marketing strategies was to establish ourselves as "the local, go-to IT solution provider that's right down the street." By including commentary from community leaders about our company, this video sent an effective, concise message about our local focus. From the sales channel side, we were invited to participate in other community-oriented programs right after the release of the video. This gave us a unique advantage to offer programs to our client base that set us apart from the competition.
A second video released the next year further reinforced our community efforts.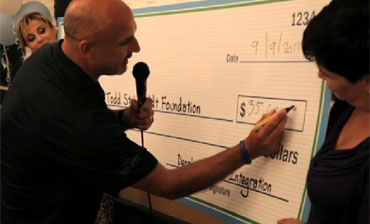 Click to watch the video.
The marketing result of this video was just as impressive as the money we raised for the foundation. In addition to the video's message, key influential individuals in the sales channel serving our customer base were featured in the footage itself. Nothing says your vendor partners are behind you like seeing them attend a special event to raise money for a great cause. Our customers talked for months after the video's release about what a great thing we did for our community. We definitely achieved our marketing goal of reinforcing our reputation as the best "local" IT solution provider to select for technology service needs.
In the spirit of supporting the local business community, both videos were produced by local production firms. Many of these firms did their work pro bono, in support of the Todd Stabelfeldt Foundation. Some of the production costs were supported by strategic alliance vendors as part of their partner programs utilizing initiative-based funding.
NEXT: Integrate Metrics
Printer-friendly version
Email this CRN article