Printer-friendly version
Email this CRN article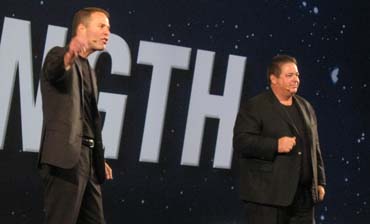 Gregg Ambulos (left) and Terry Breen
EMC is getting ready to revamp its decade-old Velocity Partner Program as the types of workloads customers are employing transform over the next few years.
Gregg Ambulos, EMC senior vice president of global channel sales, Monday told partners at EMC's Global Partner Summit that EMC's Velocity Partner Program, which was introduced in 2003, will be replaced by the EMC Business Partner Program starting Jan. 1.
"The 'Velocity' name is going away," Ambulos said.
[Related: EMC's New Software-Defined Storage Play: Meet ViPR]
The EMC Global Partner Summit was held Monday prior to the opening of this week's annual EMC World conference in Las Vegas.
The storage vendor's executives did not disclose deals about the new EMC Business Partner Program, other than to say that it would help break down the barriers between different types of channel partners and how EMC works with them. Ambulos, in a solution-provider-only keynote presentation later Monday morning, did not unveil any other details, according to solution providers in attendance.
Jeremy Burton, executive vice president of product operations and marketing at EMC, said the Velocity Partner Program has gone through a number of changes since its introduction.
From 2004 to 2007, it was an especially tough program for solution providers because at the time EMC's biggest channel partner was Dell, Burton said. "That was the time we really scared our partners," he said.
Velocity was enhanced in 2011 to include new benefits for service providers, and in 2012 the barriers between different partner types were removed, he said.
EMC has been focusing on helping partners better navigate an increasingly complex IT world, said Terry Breen, senior vice president of strategic sales, alliances and service providers at EMC, Hopkinton, Mass.
"That's why we're making things more simple, predictable and profitable," Breen said.
Solution providers applauded when Breen said EMC plans to replace its Powerlink system over the next 12 months. Powerlink is a part of EMC's partner portal for accessing all manner of EMC partner information and has been criticized for being too complex.
NEXT: EMC's Simplicity Message Getting Through
Printer-friendly version
Email this CRN article