Printer-friendly version
Email this CRN article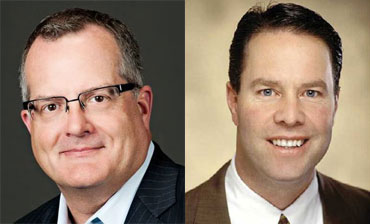 Fred Kohout (left) and Gregg Ambulos discuss the new EMC Business Partner program.
EMC for now is quiet about the details of its planned restructuring of its channel program, but it is clear on one thing: It will be a comprehensive program that will bring partners together not only on its products but also on its core big data, cloud and trust.
Gregg Ambulos, EMC senior vice president of global channel sales, and Terry Breen, EMC's senior vice president of strategic sales, alliances and service providers, this week used the EMC World conference to introduce the EMC Business Partner initiative, which is scheduled to replace the decade-old EMC Velocity channel program starting Jan. 1.
Ambulos told CRN that the EMC Business Partner program is still in an exploratory phase, and so the company is hesitant to release details at this point, even if it had any.
[Related: EMC Q1: Channel Now Over 50 Percent Of Sales, But No Impact On Margins]
However, he said, the new program will encompass all the storage vendor's upcoming strategic initiatives better than was done in the past.
"EMC has a strategy around big data, cloud and mobility," he said. "Our program will be focused more on the platform."
One thing going away with the new program is the old "Velocity" name, Ambulos said. "'EMC Business Partner' leverages the EMC name," he said. "If there's a way to have one holistic program, we want it to be around the EMC name."
Milton Lin, a master cloud architect at Force 3, a Crofton, Md.-based solution provider and EMC partner, said EMC is a master of branding and developing programs and the packaging around them.
That is likely what will happen with the EMC Business Partner program as EMC moves its partners closer to the cloud, Lin said. "Most companies, when they want to tie you to the cloud, want you to get close to their entire family of products and services," he said. "Otherwise, the tendency is to tie you to point products."
NEXT: Trying To Leverage The 'EMC' Name For As Many Partners As Possible
Printer-friendly version
Email this CRN article