Printer-friendly version
Email this CRN article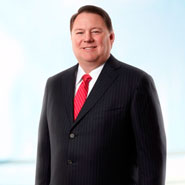 Brian Gladden
Dell on Thursday posted disappointing revenue and profit numbers for its first fiscal quarter of 2014, but the company seemed to be going in the right direction in terms of remaking itself from a low-margin PC maker to a provider of business solutions.
That goal of shifting its business to a solutions focus lies behind Dell's $24.4-billion bid to become a private company, a move that would let it reorganize away from the scrutiny of investors.
The shift is an on-going one as evident from the company's first fiscal quarter results wherein Dell's enterprise systems revenue showed a solid year-over-year growth of 10 percent, making it the best performing of Dell's four product and services segments, compared to a 9 percent drop in end-user computing revenue.
[Related: Dell Go Private? History, Research Say It Could Be Good For Everyone Involved]
Brian Gladden, senior vice president and CFO at Dell, said during the financial analyst conference call after announcing the first fiscal quarter results that his company is investing for future growth.
"As we head into the new fiscal year, we continue to execute on our strategy of being a provider of end-to-end solutions. ... Our continued focus on customers and the ability to meet their needs is evident," Gladden said.
For the first fiscal quarter of 2014, which ended May 3, Dell reported revenue of $14.1 billion, which was down about 2 percent compared to the $14.4 billion reported in the first quarter of 2013.
GAAP income for the quarter was $130 million, down 79 percent from the $635 million reported last year, while earnings per share fell year-over-year by 81 percent to 7 cents, compared to last year's 36 cents.
On a non-GAAP basis, income for the quarter was $372 million or 21 cents per share, down 51 percent from the $761 million and 43 cents per share reported last year.
Analysts had been expecting adjusted earnings of 35 cents per share on revenue of $13.5 billion, according to BusinessWeek.
Gladden said Dell has already spent about $90 million so far on expenses related to the move to go private in a leveraged buyout led by Chairman and CEO Michael Dell and an equity investment firm.
NEXT: Dell's Enterprise Business Up, Except For Storage
Printer-friendly version
Email this CRN article