Printer-friendly version
Email this CRN article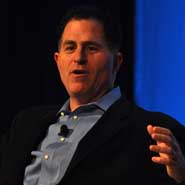 Michael Dell
The short list of potential candidates to lead Dell -- should Carl Icahn and Southeastern Asset Management have their way -- is heavy on ex-Hewlett-Packard executives.
Reuters on Friday reported that Icahn and Southeastern, currently battling Dell over that company's bid to go private, have a short list of potential candidates to take over Dell CEO Michael Dell's position.
Three of the top four possible candidates on the Reuters list are current or former executives of HP, Dell's archrival in the server, PC and storage business.
[Related: Dell Considered PC Business Spinout, Financial Services Disposal]
The three include Mark Hurd, former HP CEO and current Oracle co-president; Michael Capellas, the chairman of Compaq at the time it was acquired by HP where he briefly served as president; and Todd Bradley, executive vice president of HP's Printing and Personal Systems organization.
The fourth on the list is former IBM services head Michael Daniels, Reuters said, citing unnamed sources.
It doesn't really make any difference who others want to run Dell as long as Michael Dell continues to lead the company forward, said Scott Winslow, president of Winslow Technology Group, a Boston-based solution provider and Dell partner.
"I think Michael Dell's on the right path, and let's leave well enough alone," Winslow said.
Dell for the first time in 68 quarters is beating HP in number of servers shipped, and is in the top three networking vendors, Winslow said. The company also has first-class storage with Compellent.
"So I don't want someone else coming in and messing it up," he said. "The privatization will give Dell the bandwidth it needs to do what it has to do."
Of the four, Hurd is publicly the one who most recently has had dealings with Dell.
Hurd last week made a pretaped video appearance at the Dell Enterprise Forum, where he surprised solution providers by unveiling a new relationship with Oracle that the companies said will bring Oracle's business-critical software to market on Dell's x86 server platform.
In the video, Hurd said Oracle will work with Dell to deliver integrated hardware and software solutions, with software optimized to run on Dell's x86-based servers.
One Dell solution provider who requested anonymity said, "The last thing I ever expected at this event was to see Mark Hurd's face."
This is not the first time Hurd's and Capellas' names have come up as potential replacements for Michael Dell.
Blackstone Group, which until April was bidding to be a part of Dell's privatization, in March was reported by Fortune to be "aggressively" courting Hurd and also considering Capellas for the top Dell spot.
Dell declined to comment on the news other than to reiterate the company's earlier statements that the company will continue to deliver the solutions, services and experiences that its customers and partners have come to expect, and is committed to completing the privatization transaction as seamlessly as possible, such that partners and customers are not affected in any way.
PUBLISHED ON JUNE 12, 2013
Printer-friendly version
Email this CRN article