Printer-friendly version
Email this CRN article
Pages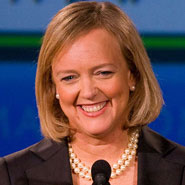 Meg Whitman
Also planning present and talk to end-user customers are Bill Swales, head of HP's industry standard servers; Chris Riley, vice president of sales for HP storage; Terry Richardson, HP's vice president and general manager for channel sales; Brian Weiss , product marketing vice president for Autonomy; K.C. Choi, vice president of America's solution architects; and Tom Joyce, vice president of HP's Converged Infrastructure Group.
A highlight of the exposition area will be HP's new modular Moonshot servers, Nth's Baldwin said.
In addition to HP executives, the Nth Generation Symposium attendees will also see presentations from executives from many of Nth's other partners, Baldwin said.
These include Martin Casado, chief architect of networking at VMware and the founder of SDN startup Nicira; George Teixeira, president and CEO of DataCore; CTOs from Trend Micro and Intel; and senior executives from Microsoft and CommVault.
In addition to featuring support from executives from HP and other partners, the annual Nth Generation Symposium, going into its 13th year in 2013, will be considerably larger than in years past, said Baldwin.
The symposium is moving this year to the Disneyland Hotel Convention Center in Anaheim, Calif., just a few blocks from Disney's Grand Californian Hotel, where it was held for several years.
The new venue gives Nth Generation plenty of room for the expected 500 to 1,000 attendees with an 18,000-square-foot exposition hall, a big step up from the 6,000-square-foot exhibition space it had access to in the past.
PUBLISHED JUNE 19, 2013
Pages
Printer-friendly version
Email this CRN article