Printer-friendly version
Email this CRN article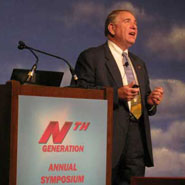 Rich Baldwin, CSO and CIO for Nth Generation
Solution provider Nth Generation Computing this Summer plans on holding its biggest-ever end-user event, highlighted by keynotes and presentations from nearly all the top executives of Hewlett-Packard including HP President and CEO Meg Whitman.
The fact that HP is providing such high-profile support to Nth Generation and its Symposium, scheduled to run from July 30 to Aug. 1, springs from the support Nth shows to HP, said Rich Baldwin, Nth Generation's CIO and chief strategy officer.
Nth is not HP's largest partner. The company's total revenue is just under $50 million, slightly down from its 2011 peak of over $50 million. However, Baldwin said, HP represents over 70 percent of Nth's total revenue, a percentage that seems to be growing slightly this year.
[Related: HP Intros Flash-Optimized 3PAR Array, Virtual Dedupe Appliance]
"Meg has pledged her support to those partners that sell the full HP portfolio, and Nth has invested in many of the new HP acquisitions such as ArcSight, Tipping Point, Autonomy, and so on, as well as the entire enterprise product groups such as servers, storage, networking, services, and software," he said.
The process to get Whitman to keynote the Nth Generation Symposium started at a partner roundtable event last Fall, Baldwin said. He had a face-to-face meeting there with Whitman where they discussed channel issues.
"Within 30 minutes after my meeting with Meg, my phone began to ring from senior vice presidents within HP," he said. "Within two weeks, one major channel program was changed to increase my ISS [industry standard server] margin by an additional 5 percent. Within the next quarter, the new business registration program was also significantly enhanced."
Since then, HP's entire senior executive team has been more available and reachable to help Nth grow its business, Baldwin said. "This is culminated with Meg [Whitman] accepting our invitation to keynote our 13th annual symposium and spend over four hours presenting and meeting with our clients," he said.
Whitman on July 30 will speak on the topic of new styles in IT, after which she will hold a CIO roundtable with a number of Nth's customers. "It's hard to figure out who will be there with her," Baldwin said. "Space is limited."
In addition, HP Labs CTO and Director Martin Fink on Aug. 1 will give a keynote on the future technologies that will shape IT, business, and society, Baldwin said.
Other HP executives making presentations at the Nth Generation Symposium include Paul Santeler, vice president and general manager for HP's Hyperscale Business Group and chief architect and designer of the Moonshot servers, and David Scott, senior vice president and general manager for HP storage.
NEXT: Other Execs, Moonshot To Make Appearance At Nth Symposium's Largest Venue To-Date
Printer-friendly version
Email this CRN article