Printer-friendly version
Email this CRN article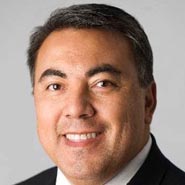 Braulio Castillo
Strong Castle, a government IT solution provider, was blasted this week by Congress for alleged fraud related to more than $500 million in potential IRS contracts.
The U.S. House of Representatives Committee on Oversight and Government Reform this week issued a scathing report about Washington, D.C.-based Strong Castle's business with the IRS that questions the solution provider's status as a service-disabled, veteran-owned small business.
Congressional hearings on the allegations against Strong Castle included a verbal lashing by U.S. Rep. Tammy Duckworth (D-Ill.), a veteran of the Iraq war who lost both legs when her helicopter was hit in battle, against Strong Castle President and CEO Braulio Castillo, who said he was an injured veteran.
Neither Castillo nor any other personnel from Strong Castle responded to requests for further information.
[Related: SAIC To Pay $500 Million In New York CityTime Fraud Scandal]
In its 157-page Questionable Acquisitions: Problematic IT Contracting at the IRS report on its investigation of Strong Castle, the U.S. House of Representatives Committee on Oversight and Government Reform alleged that Strong Castle engaged in fraud to get IRS IT contracts potentially worth more than $500 million.
The committee also alleged in its report that a close relationship between Castillo and IRS Deputy Director for IT Acquisition Greg Roseman "may have influenced the selection process."
Strong Castle was founded in early 2012 when Castillo and his wife acquired government solution provider Signet Computers.
The committee alleged the IRS "single-handedly helped Strong Castle grow from a business with $250,000 in annual revenue to one that won over $500 million of potential awards in just six months" due to the close relationship between Roseman and Castillo and to a lack of "proper training on government ethics guidelines."
The committee listed among its findings several instances of alleged fraud on the part of Castillo and Strong Castle it said helped that company win the IRS contracts.
Strong Castle was certified by the U.S. Department of Veterans Affairs as a service-disabled business based on an injury Castillo said he received while on active duty in the military.
Castillo testified to the committee that his injury happened during an orienteering session.
However, the committee reported, that injury was actually suffered in 1984 while playing football at the U.S. Military Academy Preparatory School. Castillo would go on to play football for San Diego City College, and did not apply for a service-disabled designation until a few months before he acquired Signet Computers, according to the committee report.
NEXT: Alleged HUBZone Certification Fraud
Printer-friendly version
Email this CRN article