Printer-friendly version
Email this CRN article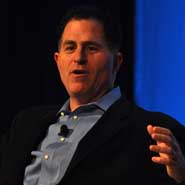 Michael Dell
Michael Dell's plan to take Dell private as a way to speed up the transformation of that company to become an enterprise solution provider is running into serious headwinds as the Dell special committee is feeling pressure to consider alternatives.
Bloomberg on Wednesday reported that investor-advisory firm Institutional Shareholder Services (ISS) is considering not supporting Dell's privatization bid.
The impact of a negative recommendation by ISS could include an increased likelihood that investors could oppose Dell's privatization bid unless Dell CEO Michael Dell increased his bid for the company.
[Related: Dell Go Private? History, Research Say It Could Be Good For Everyone Involved]
The pressure is on. Reuters on Wednesday reported that Dell's special committee on managing potential privatization and buyout deals for Dell is recommending that Michael Dell increase his offer if he wants to ensure a successful transition of the company from public to private.
ISS is expected to make its recommendation next week. That will be followed by a July 18 shareholder vote on Dell's privatization bid.
Investor Carl Icahn and his allies on Monday claimed to have enough funds to challenge Dell's move to become a private company.
Icahn, in an open letter released Monday to Dell shareholders and the Dell special committee, said the $5.2 billion in debt financing has been raised from lenders.
Icahn, who with Southeastern Asset Management is currently battling Dell over that company's bid to go private, said his strategy, which includes offering $14 per share to most shareholders while keeping Dell a public company, is superior to Michael Dell and his investment partners' original offer to pay $13.65 a share for all shares and then turn Dell into a private company.
Patrick Mulvee, vice president of sales and marketing at Sidepath, an Irvine, Calif.-based solution provider and Dell partner, said that he still hopes to see Dell go private.
"It would help Dell reinvent itself," Mulvee said. "It wouldn't have to worry about reporting every 90 days."
Going private would also be good for business, Mulvee said. "Customers get conditioned to wait for the end of the quarter for the best deals," he said. "So vendors tend to swap margins for revenue. Dell's going private would help both the channel and the manufacturer."
A Dell spokesperson said via email that Dell declines to comment on the reports. The Dell special committee did not reply to a request for more information.
An ISS spokesperson responded via email that ISS is still working on its final analysis and recommendation. "ISS is very consistent with its process -- we never signal our recommendation in advance nor do we comment prior to the release of our analysis and recommendation to our clients," the spokesperson wrote.
PUBLISHED JULY 3, 2013
Printer-friendly version
Email this CRN article