Printer-friendly version
Email this CRN article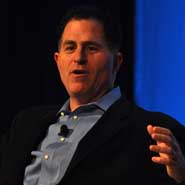 Michael Dell
The scheduled vote for Dell shareholders about whether to accept the $13.65-per-share offer of CEO Michael Dell and investment partner Silver Lake Partners to take the company private will now take place July 24, moved from the original date of July 18.
The overall goal is to give the company time away from Wall Street scrutiny while it makes changes needed to refocus the company away from its PC roots and toward being a provider of enterprise IT solutions, Michael Dell has said.
Meanwhile, the moves by activist shareholder Carl Icahn and his allies, who maintain that the $13.65-per-share offer is too low compared with the upside shareholders might receive as Dell's business grows in the future, have led to a barrage of salvos between Icahn and the Special Committee to the Dell board.
[Related: Dell Go Private? History, Research Say It Could Be Good For Everyone Involved]
Dell executives, for the most part, have remained quiet on the battle but have provided some insight into the path the company and its channel partners need to follow.
Dell executives Alan Atkinson and Pete Korce, both vice presidents and general managers for Dell storage, in general say publicly that they remain focused on the business.
Atkinson told CRN at last month's Dell Enterprise Forum that they are limited in what they can say.
"In short, Pete and I operate under the assumption that privatization doesn't change anything. ... Pete and I stick to our knitting and focus on Dell storage," he said.
"I don't think we've ever thought about it otherwise," Korce said.
Marias Haas, president of enterprise solutions for Dell, told CRN that Dell remains focused on its strategy of making enterprise a bigger part of its business.
Part of the confusion over the future of Dell's business as it moves to more of an enterprise focus stems from how customers view that business, Haas said.
"There's a difference between financial analysts and customer analysts," he said. "Financial analysts ask questions that help them fill out their spreadsheets to get their EPS [earnings per share] estimate. They will ask about the enterprise business but focus on PCs because it's one of the few things they can predict. But when you talk to customers, they understand how enterprise is having a bigger share of their business."
If Dell goes private, Michael Dell will be able to spend more time on the enterprise side of the business and less time on the PC side, Haas said.
"Right now, we're focused on our strategy," he said. "Being flip-flop on strategy creates risk."
For the channel, it's important to stay focused regardless of what happens, Greg Davis, Dell's vice president and general manager of global channels, told CRN.
When news of the privatization discussions first broke, Davis said he immediately started communicating with Dell's channel partners.
"I told them we will continue to invest in our channel programs," he said. "Those elements of our channel strategy will not change. For six years, we've been very consistent in investing in our channel programs. And growth in the channel has Michael Dell's support."
Davis said there is a strategic value for Dell in being a part of a customer's enterprise data center.
"Not many companies can take customers from the PC to virtual desktops to servers to storage," he said. "And we have the advantage of bringing the channel to the enterprise."
NEXT: The Dell Partner Perspective
Printer-friendly version
Email this CRN article