Printer-friendly version
Email this CRN article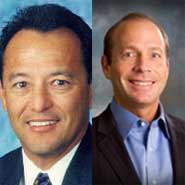 TIG's Geier (left) and Nexus IS's Pearson both claim victory.
Solution providers Technology Integration Group and Nexus IS this week settled a lawsuit under which TIG accused Nexus IS and several former TIG employees of breech of contract, stealing of trade secrets and illegally hiring TIG personnel.
The settlement, which includes Nexus IS paying TIG just slightly over $1 million while not admitting guilt, ends a case that started back in 2007 when TIG hired a group of seven employees from MTI, a storage solution provider that filed for Chapter 11 bankruptcy protection that same year.
San Diego-based TIG filed the lawsuit against Valencia, Calif.-based Nexus IS in late 2008, and it was settled days before it was expected to go to trial.
[Related: TIG, FusionStorm Close Books On Lawsuit With Last Damages Payment]
Both solution providers claimed victory in the lawsuit.
For TIG, the $1.04 million settlement vindicated its allegations that Nexus IS improperly employed TIG personnel and used TIG intellectual property.
Bruce Geier, TIG president and CEO, told CRN the case was more than just money.
"It's about how to make this a better sandbox for all of us to play in," Geier said. "There's plenty of sand. You just can't be greedy."
By settling and then talking about the case, Geier said he hopes the message that competitors can compete without resorting to illegal tactics will sink in throughout the solution provider community.
"You can't do this," he said. "You run into a guy like me, and I don't care how, but I gotta make it stop."
Nexus IS CEO Deron Pearson told CRN the lawsuit should never have been filed, and that the settlement, which he said was paid for by Nexus IS's insurance company and probably was less than what TIG paid its law firm, made it possible to close the case and remove the distractions it caused.
"There was no evidence to support the lawsuit," Pearson said. "Our insurance company represented us because we didn't do anything wrong. Nexus IS didn't use any TIG confidential information, period. There was no reason to use it. It was a distraction more than anything else."
Pearson also said the fact that Nexus IS hired a group of people from another company is not unusual. "We will hire 150 people over the course of this year," he said. "Hiring five people from a single company over a couple months is not unusual."
NEXT: Allegations From The Lawsuit
Printer-friendly version
Email this CRN article