Printer-friendly version
Email this CRN article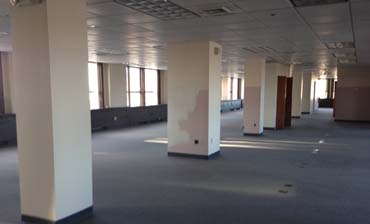 The company's future headquarters
There isn't much to it right now -- just an enormous abandoned office, broken up by thick half-painted pillars. Walking around the empty office that overlooks the downtown street of the western Massachusetts city of Springfield, it takes a lot of imagination to picture it transformed into a sleek Google-esque center. But Delcie Bean, CEO of Paragus Strategic IT, said he sees potential in the space and he's going to use it to revive the IT industry's talent pool and the community.
The tentative name for the program he's starting in the space is Valley Technology Outreach, which Bean said he expects will change by the end of the year. The program is designed to connect the city's youth from poorer communities with growth opportunities and also give the IT companies capable employees to plug a growing talent drain.
Bean said he sees the streets of Springfield as the next Silicon Valley and the future heart of innovation for America. All of the ingredients are there, he said, or almost all of them at least. There is a high quality of life, education with many local and state universities, restaurants, and plenty of land and manufacturing infrastructure just waiting to be taken advantage of, Bean said. The only thing missing is the talent, he said, which is where the nonprofit training program comes into play.
[Related: Nice Work If You Can Get It: The IT Talent Shortage Is More Serious Than You Think]
"There's no reason why it can't happen here if it happened [Silicon Valley]," Bean said. "A huge piece of that is going to be the talent and workforce development. If we can't grow these people, if we can't make them, we can't just attract them here. Massachusetts isn't going to become the tech capital of America all on its own. It's going to do it because it decides to, because it creates that talent."
And, that's exactly what Bean hopes to do.
The program itself plans to take in 100 local high school students and train them in computer science skills that will be applicable in the workplace. When students successfully master a skill, they will receive a badge, similar to the idea of Boy Scouts or Girl Scouts, which shows potential employers exactly which skills they have. Companies looking for new employees can then search the program's database to find the graduating seniors who have the badges, or skills, they need to fill open positions.
NEXT: A Rising Tide For All
Printer-friendly version
Email this CRN article