Printer-friendly version
Email this CRN article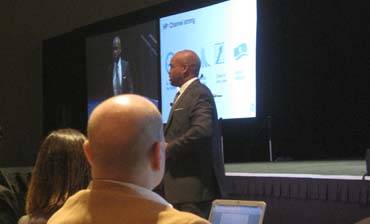 Paul Reid
A Hewlett-Packard executive took the stage at the Synnex Varnex conference Monday, opening with a joke and then getting serious about what he said are the major advantages to working with the vendor.
Paul Reid, director of specialty channel sales for HP, started his presentation with a photo of his daughter holding two signs that read, "Buy HP WurksTAsIon!" and "Or I Don't Get To Eat!"
[Related: 15 Questions For HP CEO Meg Whitman]
"If you decide to buy something else, my little girl doesn't eat," he said. "Let her eyes haunt you forever."
Reid then got serious when he discussed HP's channel priorities, which he said were laid out very clearly by HP CEO Meg Whitman. "The priorities are all around, and focused, on how we can drive more business through the channel," he said.
HP has made several changes to its channel program based on feedback from partners, Reid said.
The first was simplification of the program, particularly in terms of assigning a single HP rep to an account rather than multiple reps from multiple departments, he said. HP also now allows partners six months to spend their market development funds, up from the previous three months, he said.
HP also is the only vendor that can partner with solution providers across the entire range of solutions targeting the four key IT trends of mobility, cloud, social media, and big data, and it does so with consumer-friendly products designed for business use, Reid said.
"We don't make crappy products," he said. "And we're No. 1 or No. 2 in every one of those products. Why would you go with anyone else?"
Reid did a great job of getting the audience fired up about HP, said Rami Dababneh, IT sales and marketing director at LAN WAN Enterprise, an Irvine, Calif.-based solution provider and HP partner.
"Everything he said was true," Dababneh said. "He wasn't overselling the products."
Dababneh said Reid made it clear how important the channel is to HP and to Whitman.
"That must be why we are growing our HP business," he said.
PUBLISHED NOV. 19, 2013
Printer-friendly version
Email this CRN article