Printer-friendly version
Email this CRN article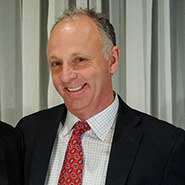 Dan Serpico
FusionStorm, which has captured more than a dozen Partner of the Year vendor awards over the past six years, has been handpicked as one of just a handful of elite partners to join the ultra-exclusive Dell EMC Titanium Black program.
The San Francisco-based company, which has been widely recognized for driving innovative solution offerings in the fast-growing hyper-converged, software-defined and cloud markets, also sits on the advisory boards of Dell, EMC and VMware.
The "invitation-only" Titanium Black honor gives FusionStorm access to a wide range of exclusive benefits aimed at driving sales growth. The honor puts the $700 million company, which has its sights set on the $1 billion sales mark, in the same league as a select group of much larger competitors including $14 billion behemoth CDW, $9 billion powerhouse World Wide Technology and $5.4 billion Insight Enterprises.
[Related: 6 Key Details Of The New Dell EMC Partner Program]
"Only the most innovative, most successful and most visionary companies are Titanium Black," said Dell EMC channel chief John Byrne in a congratulatory letter to FusionStorm. "You have achieved extraordinary things, and now, with the power of Dell EMC, our opportunity to go big and win big together is greater than ever."
The Titanium Black honor, which provides FusionStorm exclusive access to briefings with Dell's top technologists and Dell EMC CEO Michael Dell, represents a watershed moment for FusionStorm, which has transformed into an agile, next-generation services power under CEO Dan Serpico.
Serpico, who was recognized by CRN in 2016 as one of the top 25 innovators in the industry, took the helm five years ago and has made broad and deep investments aimed at transforming the company into a strategic services power.
Serpico, who was previously CFO of FusionStorm, attributes the company's success to an ability to form, grow and maintain valuable relationships with vendors and customers, as well as a commitment to leading the industry through the rapid, widespread shift to the cloud and software-defined technology.
"It's a challenge, but it's a challenge that we have to meet," Serpico said. "Companies that don't make that shift, both in terms of how they reach customers and the solutions they offer, as well as management of their internal support mechanisms and the costs around that, are not going to be as relevant."
Among the Partner of the Year honors besides the multiple awards from Dell EMC, including Enterprise Solution Provider Partner of the Year, are a Juniper Innovation Partner of the Year award, a Cisco Territory Partner of the Year award and a Channel Customer Satisfaction Excellence award.
Byrne has said the Titanium Black designation will handsomely reward partners that double down on selling a wide portfolio of Dell EMC solutions and create "tier envy" among other Dell EMC partners.
Printer-friendly version
Email this CRN article