Printer-friendly version
Email this CRN article
Customers find it easy to get started on the road to virtualization, but often such projects stall before they get ready for a move to the cloud, according to Steve Kaplan, a solution provider and well-known author on virtualization.
Getting past the virtualization stall requires stepping back and looking at the architecture from a completely new point of view, said Kaplan, vice president of data center virtualization at INX, a Houston-based solution provider.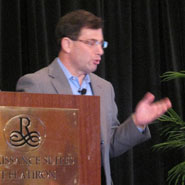 Steve Kaplan Speaking At The LEAP Center Opening
Kaplan, speaking at the opening of opening of Westcon's LEAP Center for hands-on training and customer demonstrations of Cisco's UCS platform, told solution providers that the level of data center virtualization for typical customers varies widely
"I find it more like between 10 (percent) and 50 percent," Kaplan said. "And organizations tend to get stuck at that point."
The reason for this virtualization stall is VMware's success in getting engineers and others within a company to download its virtualization software free-of-charge to test it, which led to widespread adoption without an overall plan for virtualization, Kaplan said. "VMware was very successful," he said. "But the problem is, organizations got stuck in a tactical mode."
Next: Tactical Thinking And The Problems It Causes
Printer-friendly version
Email this CRN article