Printer-friendly version
Email this CRN article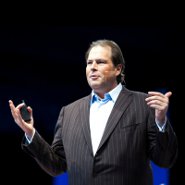 Mark Benioff
Salesforce CEO and Chairman Marc Benioff on Wednesday kept the tent revival feel of Dreamforce 2010 rolling with an on-stage cloud CRM customer conversion.
While the converted may not have been an actual Microsoft customer, Benioff convinced the highly visible subject of a Microsoft Dynamics CRM Online customer advertisement -- or a solid doppelganger for the man in the ads -- to pledge his allegiance to Salesforce's cloud CRM.
Calling Microsoft the "evil empire," Benioff said the Redmond, Wash.-based software giant wanted to rain on the DreamForce parade as the pair of powerhouses continues to butt heads in the cloud CRM space.
"Not everyone wants us to have this fun. There are forces out there trying to stop us … They don't want us dancing to Stevie Wonder. They don't want us dancing to will.i.am," Benioff said during his Wednesday morning keynote, referencing the two marquee performers from the Dreamforce party the night before.
There's a legacy software industry, Benioff said, that wants to put a stop to Salesforce forging its way into cloud computing and the cloud CRM space. And that incumbent is pulling out all of the stops at DreamForce in San Francisco this year.
"There's an old industry … and they're trying to do everything they can to stop this," Benioff said.
The Salesforce chief executive pointed to a new Microsoft Dynamics CRM Online ad campaign featuring the slogan "I Didn't Get Forced. I got cloud-based CRM that works the way I do." The ads, which disparage Salesforce with the tagline "Don't Get Forced, Get What Fits," feature the image of a Microsoft customer with crossed arms and a look of consternation on his face. That customer is said to have left Salesforce in favor of Microsoft Dynamics CRM Online. Microsoft also deployed a fleet of Segway vehicles at DreamForce and around the Moscone Center featuring the ad.
And on the eve of DreamForce, Microsoft also launched a "Cloud CRM for Less" offer for Salesforce and Oracle customers through which Microsoft will rebate eligible customers up to $200 for each user that makes the move to Microsoft Dynamics CRM Online between now and June 30, 2011.
According to an open letter from Michael Park, corporate vice president for sales, marketing and operations at Microsoft Business Solutions, the Cloud CRM for Less launch was timed specifically to get the roughly 30,000 Dreamforce registrants thinking about jumping ship from Salesforce CRM. Microsoft in September also released Microsoft Dynamics CRM 2011 into beta, which creates parity between its cloud and on-premise-based versions of the application.
"In making the switch from other solutions, such as Salesforce.com, you will join thousands of companies that have found that Microsoft Dynamics CRM Online is easier to use, adds value to the technology investments they've already made and delivers greater business insight," Park wrote in the letter, which highlights two customers that saw dramatic savings switching from Salesforce to Microsoft for cloud CRM.
NEXT: The Cloud CRM Battle Didn't Start Here
Printer-friendly version
Email this CRN article