Printer-friendly version
Email this CRN article
EMC has quietly acquired part of Asankya, a developer of application acceleration services and solutions which can be applied to cloud storage and other uses.
EMC declined to provide details about the acquisition, which was first reported by Inside Market Data, other than to confirm through a spokesperson that it has acquired "some of the assets of Asankya and has hired some of its employees."
Atlanta-based Asankya first hit the public stage at the January, 2008 Demo Conference where it introduced its "Hypermesh Network" for providing transport of high-quality real-time and two-way traffic over IP networks regardless of existing disconnects between CDNs and P2P solutions.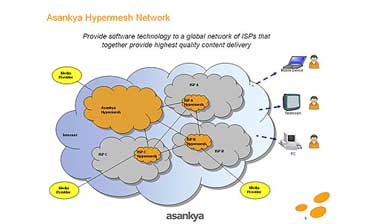 Asankya's Hypermesh Network presentation from the January, 2008 Demo Conference.
Asankya's Web site appears to have been taken down after the acquisition. However, according to the company's most recent statements from an April press release, Asankya is the developer of the technology behind the RAPIDnet Application Delivery Network (ADN), which is used by providers of storage-as-a-service, online file servers, virtual desktops, private enterprise applications, and by agencies of the U.S. Federal government.
Inside Market Data reported that Asankya developed a Cloud Acceleration Network with "parallel networking through multipathing, packet memory and TCP optimization" to which customers connected via a node on their site. The company claimed that its parallel networking technology let a network make packet-by-packet decisions on how to route data, providing up to 40 times faster throughput than other high-speed Internet-based technologies for streaming video or other high-volume cloud applications, Inside Market Data reported.
At Asankya' LinkedIn profile, which is still available on-line, the company describes itself as a provider of application acceleration services and solutions to cloud storage, application providers, and other key partners.
Asankya's said that its core Parallel Networking technology was developed through research funded by the National Science Foundation and led by the Georgia Institute of Technology. Among its investors are In-Q-Tel.
In-Q-Tel was chartered in February 1999 under the leadership of the Director of Central Intelligence and the Directorate of Science and Technology with the support of the U.S. Congress.
It is one of a number of Intelligence efforts to acquire technology needed by government agencies, and does so with strategic investments in startups that have developed commercially-focused technologies that are deemed as able to provide advantages to the intelligence community within 36 months. In-Q-Tel estimates that, on average, for every dollar it invests in a company, venture capitalists invest an additional nine dollars.
Printer-friendly version
Email this CRN article