Printer-friendly version
Email this CRN article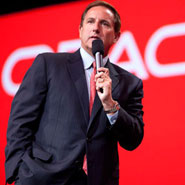 Mark Hurd
Oracle President Mark Hurd, who has revamped the company's direct/indirect sales strategy, spoke with CRN's Editorial Board about the integrated hardware -software maker's public cloud, the drive to build a long term sustainable business with channel partners and other issues. Below are excerpts from the interview.
How tough is it going to be to go forward with a public cloud model with monthly recurring revenue and the on premise capital-expenditure solutions model?
The car industry has rent a cars and buy a car and the customer can decide what makes sense. It is only a question of where the cap-ex (capital expenditure) sits. And in the end you are still (getting renumerated) for everything that you have got in the ecosystem. I think we'll leverage both.
The economic models work for us. I would argue to you that the way our strategy works is to give the customer choice. Allow the customer to leverage the cloud or on site and to mix or match. The way our strategy works you can use CRM from the Oracle Public Cloud for a division in Asia Pacific or a division in the Southwest United States. You can have another division that is on site. The same code base.
By the way you can change your mind. And the ability for us to hybrid these environments, we think is a competitive advantage. Because if you go into Salesforce.com's cloud you are not coming out.
By the way our cloud you can go take our stuff and go to Amazon and then you can come back to our cloud. Our cloud is open. So if you want to say let's take my CRM data but I want some infrastructure as a service and I want to get that from Amazon. I want to leverage that (Amazon cloud) down from peak time and then I want to come back to the Oracle public cloud, that is your choice.
Open Cloud. Elastic Cloud. Scalable. Opportunity to go leverage technology. And have the same code base that you would on site.
With cloud do you expect IT decision making is going to move away from IT and more toward line of business?
I think there will be a lot of push-pull between a siloed orphaned, sort of segmented process in a company and the ability to get an enterprise view of the company are contradictory in some way. Now, do I think there are plays that people can make that play to weaknesses in prioritization that exist in an IT organization and can have some level of success. Sure.
That has been going on for years. Call them ASPs (Application Service Providers). Call them whatever you want. They have had some degree of success. But eventually when somebody tries to get an enterprise view of IT people don't want silohs. People want to get an integrated view of the company.
So I think even with the cloud offerings you are going to have to say - How does that fit in to my overall enterprise architecture.And if the answer is: it doesn't. It is cheap. It is sort of easy. There is no cap-ex. And it is sort of cool. Sounds good. Then somebody says - How does this work? I mean how do I get a view of this performance management system and how does it integrate with my core HR system.
Don't you think there are a lot of line of business people who have to hit a number and can now do IT quickly?
Sure. I think you have a lot of line of business people who think that way. I think you have other people in the same account who think about security. I think you have a lot of people in the same account that think about governance. I think you have a lot of people in the same account that think about risk. I think you have a lot of people in the same account that say: 'How do I get an integrated view of the company.'
Aren't you thinking more about the enterprise (market) and not a mid-tier company?
It depends who it is. Let's say I'm a bank with $5 billion of assets instead of $1 trillion worth of assets? Do I have the regulatory problems? Sure I do. Do I report to the same guy? Sure I do. Do I have the same risk governance issues? Sure I do. So there is no free lunch here. It is not like there are some bunch of guys that are going to run around saying - I have a model for you .'
By the time you are done - How many applications do you think a small bank has with less than $1 billion in assets? Could they have 200? I have 200 separate ASP providers. Does anybody have a data model? Can anybody tell me anything about one customer? Can anybody tell me one thing about an employee? And I am not trying to completely dismiss your point either. I think you are going to see some. And I get where there is pent up demand.
I will tell you the other way (too). I am the HR guy and by the time the CIO gets to me I am so far down the totem pole nobody talks to me. Because that same line of business guy you've got - the guy running the business unit- he gets all the stuff because he has got the P&L and he has got the ear of the CEO or the Chairman or whatever the model is, so I think you can make some of that work.
But at some level it runs into a wall. At some level it runs up against all the principles of running an organization. And these silohs. Listen people are working really hard to cut them out. So I think you have got that battle that will go on. It has gone on for a while.
NEXT: Mark Hurd On Oracle's Direct/Indirect Sales Strategy
Printer-friendly version
Email this CRN article