Printer-friendly version
Email this CRN article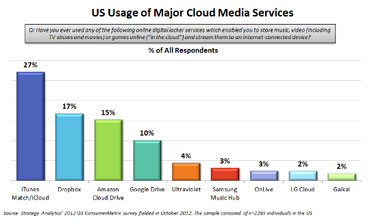 Click for full-sized view.
Nearly half of Internet-connected Americans have used a cloud storage service, and the vast majority of them have taken advantage of services connected to content providers such as Apple, Amazon and Google.
Those are among the findings of Boston-based Strategy Analytics, which Thursday unveiled the results of an on-line survey that found Apple iCloud, Dropbox, Amazon Cloud Drive and Google Drive completely dominate the consumer cloud storage market, especially when it comes to storing music.
However, a spokesperson for the analyst firm said the use of the cloud services was not limited to media files, but also included users' documents.
[Related: Dropbox Acquires Mailbox iOS App, Enters Email Management Space]
In the October survey of 2,285 U.S. consumers, Strategy Analytics found that 45 percent of connected users used a cloud storage service, and that of those, about 33 percent had used one in the last week.
Apple iCloud was by far the most popular, with 27 percent of users responding that they have used that service. It was followed by 17 percent of users who have used Dropbox, 15 percent who have used Amazon Cloud Drive and 10 percent who have used Google Drive, Strategy Analytics found.
Only between 2 percent and 4 percent of users responded using other services including the UltraViolet movie cloud, the Samsung Music Hub, OnLive, LG Cloud and Sony's Gaikai.
About 90 percent of users of the Apple, Amazon and Google services use them to store music, compared to 45 percent of Dropbox users. However, Dropbox's recent acquisition of Audiogalaxy will give that company a native music player, said Ed Barton, director of digital media for Strategy Analytics, in a statement.
PUBLISHED MARCH 21, 2013
Printer-friendly version
Email this CRN article