Printer-friendly version
Email this CRN article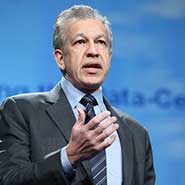 Sohaib Abbasi
Informatica was perhaps the original big data company, developing advanced data management and integration software long before the term "big data" was even coined.
The past year was a busy one for Redwood City, Calif.-based Informatica. The company closed in on the $1 billion annual-sales mark in 2013 and launched several groundbreaking products such as PowerCenter Express for entry-level data integration and the Vibe embeddable virtual data machine.
[Related: Tech 10: New Cloud Products For The Winter Season]
CRN spoke with CEO Sohaib Abbasi recently to catch up on what is happening with Informatica, in the data management market, and with the company's channel plans. Here is an edited transcript from the interview.
Can you give us your assessment of what's going on in the data integration space right now? There's been an explosion of data sources like cloud-based systems, Hadoop, next-generation databases, and so on. I would think that would make data integration more complex, but also present opportunities for vendors like Informatica.
We [recently] reported our Q3 results and we had a record quarter. And that's a reflection that the demand for data integration technology is stronger than ever.
Let me talk about three trends. The first, obviously, is cloud, where cloud, in our view, represents the next wave of data fragmentation. Any customer that relies on a cloud service provider like Salesforce.com or Workday, relies on them to manage the data for sales or for HR. And that creates the new complexity with data from the cloud combined with on-premise data. Informatica was one of the early pioneers. We announced our cloud data integration service six years ago, and subscriptions represent about 10 percent of our overall software revenue.
The second trend is big data. Big data represents a major opportunity for Informatica. At last count, there were six distinctly different ways of doing analytics. There is the traditional data warehousing like Teradata, there are databases like EMC Pivotal and Greenplum, there are in-memory databases like SAP HANA, there are agile BI vendors such as Tableau and QlikTech, there are cloud analytic services like Amazon Red Shift and Google Analytics, and finally there is Hadoop. And Informatica, with our track record of neutrality, supports it all. In fact, we've launched the industry's first virtual data machine, called Vibe, that makes it possible for customers to map data once and then use any variety of analytics. That represents a long-term opportunity with the growing interest in analytics.
The third thing that is going on is the Internet of Things and [the] industrial Internet where now you have machine data. The volumes, velocity, variety are unlike any that we've seen and once again positions us at the forefront. You've probably heard our announcement earlier of the Informatica Vibe Data Stream for Machine Data.
So if you consider the megatrends of cloud data, the next wave of data fragmentation, big data with a variety of analytics, and the emerging opportunity with machine data and the Internet of things, Informatica is very-well positioned for long-term growth.
Talk about the competitive landscape. Who else do you see out there in the big data space? How about IBM with their Cast Iron and Dell with its Boomi?
Remarkably, the majority of [our] deals are not contested by a commercial competitor. For the most part we're convincing customers about the value of buy-versus-build. Of the competitors that you mentioned, we come across IBM most frequently, in less than 20 percent of our deals, and we win the vast majority of them. And there's no other competitor we encounter more than 5 percent [of the time].
One of the reasons we win like that is our track record of neutrality. We're viewed as the Switzerland of data integration. We don't have a hidden agenda to promote one database over another, or one BI stack over another, or one business application over another. And that neutrality also allows us to partner very, very closely with a variety of partners. In fact, partners influence the majority of our deals.
NEXT: What's The Split Of Your Customer Base Between Bigger Companies and SMBs?
Printer-friendly version
Email this CRN article