Printer-friendly version
Email this CRN article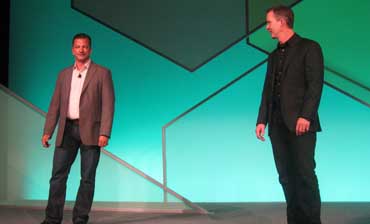 Google's Allan Naim (left) and Chris Rimer
Google plans to expand its channel business with the introduction sometime this year of a tiered channel program to all potential channel partners for its Google Cloud Platform.
Chris Rimer, global head of partners for Google Cloud Platform, on Monday told solution providers his company plans to roll out the program some time this year to make it easy for channel partners to either work directly with Google or via other IT vendors in partnership with Google.
Rimer unveiled the plans at the Red Hat Cloud Symposium, a one-day event held in Scottsdale, Ariz., in advance of this week's Red Hat Partner Conference. The Red Hat Cloud Symposium also brought executives of both Google and Amazon Web Services on stage in separate pitches for channel mindshare.
[Related: In Flight Or In Flux? The Demise Of Nirvanix Shines A Light On The Broken Cloud Model]
The Google Cloud Platform enables developers to build, test and deploy applications on Google's cloud infrastructure using a mix of computing, storage and application services.
Rimer said Google already has launched channel programs for Google Docs, Google Drive and Google Enterprise applications. The company in July of 2012 also unveiled a channel program for Google Cloud Platform, but it was limited at the time to systems integrators and technology partners.
"We want to give partners of any size an understanding of our business and where they fit in," he said. "But we don't want to be all things to all partners. We want to be careful we don't promise anything we can't deliver."
Customer interest in the Google Cloud Platform typically comes from businesses requiring some integration help, Rimer said. "Customers typically move to Google for storage and compute, then see new services like Google BigQuery and then expand their requirements," he said.
As a result, Google will be looking for partners who can provide complete cloud solutions and not point products, Rimer said. Eventually, he said, the new tiered channel program likely will be extended to include benefits for working with specific products such as Google Storage.
Solution providers said the planned tiered channel program for Google Cloud Platform sounds interesting, but that Google has not yet provided enough detail to help them determine what the impact of the program might be.
NEXT: Channel Partners Looking For More Details
Printer-friendly version
Email this CRN article