Printer-friendly version
Email this CRN article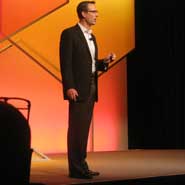 Cisco's Brian Allison
Red Hat and its technology partners unveiled a number of new hardware and software products expected to be available shortly, highlighted by an expanded relationship between Red Hat and Cisco.
The new relationship and new product previews were unveiled at the Red Hat Partner Conference, which was held this week in Scottsdale, Ariz.
For many solution providers, a highlight of the conference was the deepening relationship between Red Hat and Cisco, which brought up the question of how it might impact Cisco's relationship with its primary virtualization and cloud partner, VMware.
[Related: Red Hat Conference Full Of Welcome Surprises For Partners]
Brian Allison, director of worldwide channels and partner solutions for Cisco, told partners that his company and Red Hat have jointly developed a new go-to-market strategy called "Journey to the Open Cloud."
Allison, whose keynote at the Red Hat Partner Conference was symbolically the second-most important presentation at the event given that it followed the keynote of Red Hat President and CEO Jim Whitehurst, told partners the two vendors will shortly roll out best practices and lead generation for open clouds that will include "playbooks" and reference architectures.
Customers have a lot of choices with public clouds, including whether to build, buy or partner, Allison said.
"Cisco and Red Hat together," he said. "We're not just driving one layer here. We're driving the entire stack."
Allison also told solution providers they would have to learn new technologies as part of their journey to open clouds. "You will have to learn how to speak dev/ops, Ruby, Python, Puppet and Chef," he said.
Jerry Lumpkin, Red Hat senior director of North American channel sales, told CRN the two vendors have already identified about 30 joint channel partners that will initially get started with the "Journey to the Open Cloud" program.
"We're growing our relationship with Cisco at the highest levels," Lumpkin said.
Lumpkin characterized the new program more of a sales and go-to-market strategy aimed at helping customers get ready adopting the cloud.
"Our belief is, if we get customers talking about the cloud, they're already getting ready," he said. "This is a journey to the cloud. This isn't just jumping in."
Channel partners of both Cisco and Red Hat, however, said the relationship could actually be much deeper.
NEXT: Parsing The Increasing Depth Of The Cisco-Red Hat Relationship
Printer-friendly version
Email this CRN article