Printer-friendly version
Email this CRN article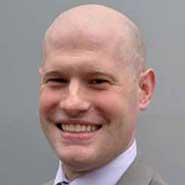 New Signature CEO Chris Hertz
New Signature, a $14 million company with 90 employees, pulled off the high-tech equivalent of David defeating Goliath by beating out solution provider behemoths for the prestigious 2014 Microsoft United States Partner of the Year award.
"We were shocked," said Chris Hertz, founder and CEO of 11-year-old Washington, D.C.-based New Signature, which beat out companies with several hundred million dollars in revenue and several thousand employees for the honor. "We are only about 5 percent of the size of some of the past big-time consulting firm winners, but we have achieved the same level of recognition from Microsoft. We are humbled. This is a huge honor for every single person at our company."
[Related: 8 Interesting Moments From Microsoft CEO Satya Nadella's Code Conference Talk]
Perficient, No. 67 on the CRN Solution Provider 500 list, won the award in 2013, while Slalom Consulting, No. 61 on the CRN SP500, won the 2010 United States Partner of the Year. New Signature, a member of Microsoft's Cloud Accelerate and Cloud Deployment program, has yet to even make the CRN SP500, a ranking of the top solution providers in North America by revenue. New Signature competed for the award against some 20,000 Microsoft U.S. partners.
The award in large part is recognition of just how nimble the 100 percent Microsoft-focused company has been in moving to a cloud-focused business model. In 2013, New Signature's sales were up 25 percent to $14 million with more than 30 percent of its overall sales now associated with cloud services, said Hertz.
Powering that cloud success: a 30 percent increase in Office 365 sales, which is opening the door to higher-value solutions for customers, said Hertz. One example of that is a large Office 365 engagement that freed up precious customer IT resources to focus on a 600-seat Microsoft CRM online engagement that is paying off in sales increases for a New Signature customer, said Hertz.
"That has made this company more profitable with higher customer engagement," he said. "The business is healthier and it wouldn't have been possible if we hadn't moved the customer to Office 365. Once you get customers to the cloud that is where the party starts. That's when you start to drive real value."
One of the byproducts of New Signature's success in the cloud market is a 19 percent increase in revenue per employee, said Hertz. "That's huge," he said of the financial benefits to New Signature from its cloud offensive. "One of the reasons we have been able to sustain higher revenue per employee is there is just an avalanche of cloud work. We never have anyone on the bench because there is so much work being driven by cloud adoption."
Hertz sees the Microsoft honor as an affirmation of New Signature's focus on the 3 Cs of success: commitment, competency and capability. "This is a measure of every element of our business," he said.
NEXT: Key To New Signature's Cloud Success: A Big Investment In Microsoft Certifications
Printer-friendly version
Email this CRN article