Printer-friendly version
Email this CRN article
If you thought there wasn't much innovation left to do in PC cabinet making, you'd be right. But what little remains is being dreamed up by NZXT, whose latest mid-tower enclosure began shipping on Thursday with more than a few new tricks.
Of course, the Tempest 410 and Tempest 410 Elite (with see-through side panel) offer superb styling and the superior fit, finish and functionality we've come to expect from the company, whose Phantom cabinet adorned CRN's 2010 Ultimate PC package.
You won't need a teapot to be up all night with Tempest. You'll lose sleep thinking up ways to use its eight internal drive bays to improve system performance. Eight included drive carriers can accept either 3.5- or 2.5-inch drives, and screw holes exist for either size drive if more security is desired beyond the grommet-clad pins supplied. For additional security, each drive carrier can be secured to the chassis with one of the thumbscrews that sit astride each bay.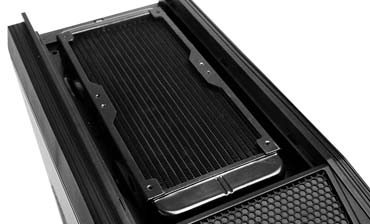 The top panel of the Tempest 410 can take two 120-mm fans or a large water-cooling radiator.
Assuring that these bays are comforted by a constant breeze is a pair of 120-mm modular fans. Held in place on the cabinet's front panel with spring-loaded clips, these fans are removed without touching a single wire. That feature alone will pay for itself in reduced IT support costs. A built-in filter traps dust that would otherwise clog up the innards.
The front panel also is home to three, 5.25-inch external drive bays with spring-loaded, filter-equipped covers. Drives slide in without rails and are held in place with two pin that retract on a lockable rubber rocker. Along the right edge is the power switch, LEDs, mic and headphone jacks, and four USB ports, one of which is marked blue to indicate its SuperSpeed USB 3.0 pedigree. The power switch bends around the front corner of the cabinet and along the top for about a half-inch, behind which is the reset switch. There's no mistaking these two controls. A "secret" compartment at the top of the cabinet could holds about 10 optical discs, or any number of USB thumb drives.
Next: Under The Hood
Printer-friendly version
Email this CRN article