Printer-friendly version
Email this CRN article
With Intel's launch this week of Ivy Bridge, its ultra-thin, ultra-efficient processors for desktop and mobile devices, the company paves the way for smaller, more powerful and power-efficient application processors.
According to a report by system researcher and UBM Channel sister company UBM TechInsights, Intel's 3-D Tri-Gate technology and its ability to be mass produced using the 22nm process makes possible a further transition to 14nm and even 10nm nodes. Ivy Bridge chips can be soldered onto a motherboard without a socket to further reduce a system's profile.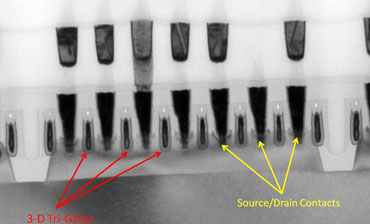 The Ivy Bridge processor's Tri-Gate transistors provide triple the surface area for electrons to travel compared with conventional 2-D gates.
With early performance results showing significantly faster speeds, Ivy Bridge processors are off to a running start. In advance of the news, Intel sent the CRN Test Center an Intel Core i7 3770K processor and the brand new Desktop Board DZ77GA-70K with D77 chipset to match. The D77 is optimized for K-series processors that are unlocked and ready for overclocking.
The Intel Core i7 3770K is among the first processors available that incorporate Tri-Gate technology, which creates three-dimensional transistors that maximize current flow when in the on state and consume close to zero when off.
NEXT: AMD No Longer King of DirectX 11 Hill
Printer-friendly version
Email this CRN article