Printer-friendly version
Email this CRN article
Intel has unveiled a new version of the Thunderbolt display and storage interconnect specification that doubles the resolution and data transfer rates of the display specification. Devices equipped with the spec will enjoy data transfer rates of 20Gbps and support the 4k video specification used by digital television and movie producers.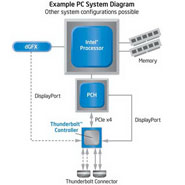 Click for full-sized view.
The announcement came yesterday at the National Association of Broadcasters Conference in Las Vegas, along with demonstrations by Intel of storage devices using new DSL4510 and DSL4410 parts. These new parts still work at the 10-Gbps signaling of the current spec, but have been updated to support the 4K resolution delivered with the DisplayPort 1.2 spec, and will replace Intel's DSL3510 and DSL3310 controllers. The new chips are precursors to Falcon Ridge, the code-name for the 20-Gbps parts expected next year along with Intel's 14nm Broadwell Core processors.
A joint development between Apple and Intel, Thunderbolt combines DisplayPort protocols for monitor control with PCI-Express for data transfer, providing multiple channels for each. It uses a single connector that's smaller than USB and far faster. Thunderbolt is standard on most Apple computers, and also can be found on a few Windows-compatible products from Acer, Asus, Dell, Lenovo and MSI. In its current iteration, Thunderbolt provides two communication channels, each with a transfer rate of 10Gbps in either direction, and can, for example, control a monitor and external hard drive at the same time.
The move has led to speculation that a next logical step for Apple could be to produce a Retina-capable iMac. To make this happen on a 27-inch display with the kind of resolution offered by current Retina devices, Thunderbolt would need to drive 5,120-x-2,880 pixels, beyond the 4,096-x-2,160 resolution defined in the 4K video spec.
Still, the performance bump should come as welcome news to bandwidth-starved digital media producers as well as to anyone seeking faster external storage methods. Thunderbolt's current 10-Gbps transfer rate already more than doubles USB 3.0's rate, and will redouble it come next year. And for people who've invested in FireWire storage peripherals, Apple already makes a Thunderbolt to FireWire adapter.
PUBLISHED APRIL 9, 2013
Printer-friendly version
Email this CRN article