Printer-friendly version
Email this CRN article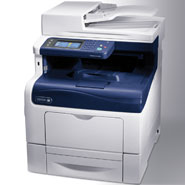 Xerox WorkCentre 6605 CMFP
The Xerox Work Centre 6605 Color Multifunction Printer is a sturdy all-purpose workgroup printer designed for small to midsize companies and departments that's easy to set up, use and maintain. Starting at $999 list, the 6605 is rated to deliver 36 pages per minute for black or color output and offers a workload of 80,000 pages per month. This thing is a workhorse.
Unveiled in September, Xerox's latest color MFP also includes a few attributes that IT departments are sure to appreciate. For one thing, the 6605 arrives with its four toner cartridges preinstalled. After removing about a dozen strips of transit tape, loading paper and plugging it in, the Work Centre whizzed to life and about 90 seconds later, it spit out a test page. For testing, Xerox sent the Work Centre 6605DN model, which adds a duplex unit (for two-sided printing) and lists for $1,099.
Printer drivers for Mac OS X and Windows are included on CDs along with applications for accessing the 6605's faxing and scanning capabilities over a network. DHCP is enabled on the printer by default, and once we connected the unit's gigabit Ethernet port to our test network, the 6605DN was detected and the Xerox software sent a test page to confirm a successful installation. Documentation includes an illustrated set-up sheet but we didn't need it. Total software setup time was about three minutes. There's also a Quick Use Guide that IT service providers might appreciate. It contains illustrated pointers to major features but spares busy service techs from having to wade through endless detail.
The Work Centre 6605DN turned in an impressive time-to-first-page, which in most cases was between nine and 11 seconds. For the office, we translate this to mean that printouts will usually be waiting at the printer by the time you get there. For multipage printouts, the 6605 was true to its rated 36-ppm print speed. This applies to color, black-only, and when printing with a mixture of text and color graphics. The machine put out 20 copies of an all-text multicolor document in 40 seconds; 10 all-black text pages in 27 seconds; and 10 pages with text and color graphics in 31 seconds, including 16 seconds before the first page appeared.
NEXT: Ease-of-use features
Printer-friendly version
Email this CRN article