Printer-friendly version
Email this CRN article
Pages
Things looked fine at first, but we soon noticed that there was a problem. Normally the preferred resolution when connecting the MacBook to the test monitor is 1,920 x 1,080, but that setting with the Targus dock caused the desktop's outer perimeter -- including the menu bar and much of OS X's Application Dock -- to be cut off. The problem was solved by reducing the display resolution. We found the highest resolution that also kept everything visible was 1,680 x 1,050.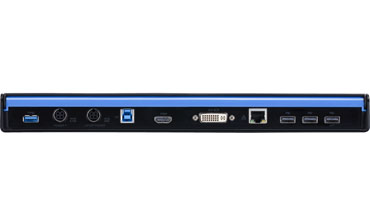 As one might expect, the monitor exhibits a slight performance lag, particularly when invoking the OS X Dashboard, Command Center and other apps that refresh the entire screen. This lag didn't interfere with productivity or work flow. There's also a slight choppiness in the video portion when playing high-res content in full-screen mode, but again most people probably wouldn't notice this. However, our test system exhibited a lag of close to four minutes when opening the Display Preferences panel, giving us cause for concern. There are other known issues with Mountain Lion, including an inoperable audio output jack and intermittent blank screen when returning from sleep. Of these, only the audio issue presented during our tests; return from sleep worked fine when it was tried.
On the whole, the Targus USB 3.0 SuperSpeed Dual Video Docking Station with Power is a stable, economical solution that's easy to install and provides a hedge against the obsolescence of proprietary docking products; drivers are backward compatible with Targus' original USB 3.0 docking stations introduced last year. This is a recommended product by the CRN Test Center.
PUBLISHED MAY 7, 2013
This story was updated on May 7, 2013, at 10:14 a.m. PST, to correctly reflect the pricing and warranty of the Targus solutions.
Pages
Printer-friendly version
Email this CRN article