Printer-friendly version
Email this CRN article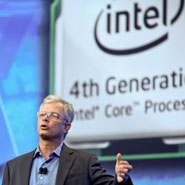 David (Dadi) Perlmutter is executive vice president, general manager of the Intel Architecture Group.
Intel this week officially unveiled its fourth-generation Core series processors. Reports of performance have been mixed, possibly because of false expectations; Intel designed its new processor more for power efficiency than raw performance.
Built under the codename Haswell, Intel's latest processors will be available later this month or in early July in four models, with power as low as 15 watts. Prices will range from around $197 for the low-end Core i5 4430 to a high of $368 for the Core i7 4470.
Unlike Ivy Bridge, which used the same socket and chipset as its Sandy Bridge predecessor, Haswell requires an all-new motherboard and Lynx Point chipset. This is due in part to its fully integrated voltage regulator, which is now part of the processor design. With fewer than a half-dozen motherboard models available from Intel, resellers are seeing a shortage of genuine Intel hardware around which to build systems. Still, ASUS, Gigabyte, MSI and others have announced availability of multiple motherboard models that support Haswell.
Of the four initial Haswell models, the high-end H-series will include four processor cores and Iris Pro 5200 graphics, Intel's most powerful. The more modestly priced M series will be available with two or four cores. Designed especially for Ultrabook devices is the U series, which will be offered at 28 watts with Iris Pro 5200 graphics or 15 watts with Iris (non-pro) 5100.
The Iris graphics processors increase resolutions and double the 3-D performance now delivered by Intel HD Graphics. When compared with an Intel Core 2 Duo processor, a fourth-generation Intel Core i5 processor with Iris technology is rated to deliver a 17x improvement in video conversion rate and 25x faster graphics performance for PC gaming. Yet, it's half the thickness and half the weight of the older part. This will open new realms of potential for Ultrabook and tablet designers.
The technology also will find its way into traditional laptops as well as all-in-one PCs and other machines designed with Haswell processors and chipsets.
Designed for digital designers, artists and advanced video and photo editors, Iris Pro supports the 4k UltraHD 4,096-x-2,160 display spec, with high frame rates adequate for gaming without the need for a discrete graphics card. Haswell with Iris doubles performance of today's U-series (Ultrabook) and H-series (other notebook) processors and triples the performance of R-series desktop CPUs with high-speed memory.
Haswell was touted as a processor with a bit more processing power than Ivy Bridge but with 50 percent more staying power on battery; it has three new low-power modes. The jury's still out on battery life tests. With a reported top Geekbench 2 score of 9871, an Intel Core i7 4702MQ found itself in fourth place in the CRN Test Center's all-time list of high-performance laptops. The third-fastest laptop we've ever tested --a dual-core Dell Latitude E6430 -- scored 9991, behind the top two machines, which had quad-core Core i7 processors and scores over 13,000.
PUBLISHED JUNE 7, 2013
Printer-friendly version
Email this CRN article