Printer-friendly version
Email this CRN article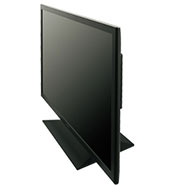 Sharp Thin IGZO
To test Sharp's new monitor, the CRN Test Center fired up our latest Haswell-based test fixture, an Intel DZ87KL-75K Extreme Series desktop board wielding an Intel Core i7-4770K 3.5GHz dual-core processor running 64-bit Windows 7 Pro on 4 GB of high-performance RAM. Intel's latest processor and chipset support the new Thunderbolt spec as well as DisplayPort 1.2. Ultra HD can be driven by anything with DisplayPort 1.2, and Sharp's monitor also can function through one or both of its HDMI inputs.
The Intel board's single HDMI port drove Sharp's new monitor at 30Hz with full resolution. Performance using Intel's on-board GPU was adequate for displaying graphics and manipulating digital images. The 3,840-x-2,160 images on the Sharp Ultra HD monitor displayed side by side with a very good 1,920-x-1,080 monitor were most striking; the bright colors, sharp contrasts and photo-realism were impressive. But, Intel's HD Graphics 4600 GPU couldn't quite keep up with high-resolution video streaming and media playback we were flinging through its HDMI port. Even when playing hi-res media in a single window, we got choppy video and gravelly audio.
Fortunately, Sharp also included an AMD FirePro W600 workstation graphics card for testing. This put the PN-K321 in a whole new light. We opened four windows and put one in each corner. In two of the windows we ran high-resolution videos using the VideoLAN's VLC 2.0.8 media player. In another, we launched a Blu-ray quality video using Microsoft's Media Player, and in the fourth, we streamed videos from YouTube. All content ran smoothly, although the cacophony of sounds had us reaching for the mute button.
NEXT: Static-Image Test Results
Printer-friendly version
Email this CRN article