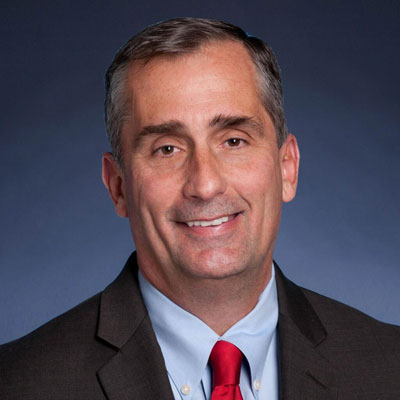 Printer-friendly version
Email this CRN article
Intel will see major wins in the coming year as the company focuses on lucrative markets like data center and the internet of things (IoT), CEO Brian Krzanich said on Thursday.
Almost a year after announcing a massive restructuring that would transform the company "from a PC-centric company to a smart, connected company that powers the cloud," Krzanich, during Intel's fourth quarter earnings call, stressed he is "confident in Intel's growth and future."
"In 2016, we took important and sometimes difficult steps to position our company for future success and accelerate our company to power the cloud and billions of connected devices," said Krzanich. "In 2017, I'm confident we're making the right investments to compete and win in the same segments we've already been in - but also in new areas that are poised for growth because they are flooded by data."
[Related: Intel Hires Cisco Veteran As Part Of Top Channel Executive Shakeup]
Intel has been grappling with the struggling PC market through massive reorganization efforts. In April, the company announced that it would cut 12,000 jobs globally and that it would shift its focus from PCs to the lucrative data center and IoT markets. 
Partners have seen changes in the channel as part of this restructuring, including new executive transitions. Most recently, Intel hired a new vice president of Intel's sales group, Ricardo Moreno, to lead its worldwide partner program. Earlier in the fall, channel stalwart CJ Bruno, Intel Americas general manager,  passed the torch to vice president of Intel Americas and director of sales Greg Baur.
On the earnings call, Krzanich said the company is not quite done with its restructuring efforts to transform into a cloud-centric company, but is "on track."
Overall, Intel posted fourth quarter earnings of 79 cents a share on sales of $16.4 billion, about 10 percent higher than the same quarter a year ago. That revenue edges higher than the outlook of analysts polled by Thomson Reuters who predicted earnings of 74 cents on sales of $15.75 billion.
The Santa Clara, Calif.-based company's stock rose more than 2 percent in after-hours trading. 
Intel saw strong growth in its Data Center Group, which rose 8 percent year-over-year to $4.7 billion. According to Intel, Data Center platform volumes were up 3 percent and the platform average selling prices were up 4 percent in the fourth quarter over last year. Intel's Internet of Things Group also saw growth, increasing 16 percent year-over-year to $726 million.
Printer-friendly version
Email this CRN article