Printer-friendly version
Email this CRN article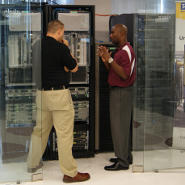 Tech Data's Cisco UCS Demo Center
Tech Data has opened a new Cisco Unified Computing System (UCS) data center, and one solution provider found the opening to be just in time to close a UCS deal.
Tech Data two years ago opened its Solution Center, which provides an environment where solution providers can demonstrate technology from vendors including IBM, Hewlett-Packard, EMC, Cisco, VMware, Brocade, and others, said Chuck Bartlett, vice president and general manager for the distributor's Advanced Infrastructure Solutions division.
The Cisco USC technology, including the company 's B-series and C-series servers, was added to the Solution Center about 30 days ago, Bartlett said.
"It's fully loaded with servers, storage, and virtualization, and lets customers come in and demo UCS as well as customer applications on UCS," he said.
One solution provider, Allentown, Pa.-based integraONE, has already closed a UCS deal with the help of Tech Data's Solution Center.
Marty Andrefski, president of integraONE, said he has been aware of the Solution Center for some time, and has taken a couple of tours, but hadn't had a chance to leverage it until recently when a regional university was looking to invest in a blade server infrastructure.
"When Tech Data added the B-series servers, we were just talking to the client," Andrefski said. "We were able to take the client there, spend time with the Cisco team, and show them the technology. Being able to show the technology in that environment and have one-on-one time with the Cisco team was very valuable."
integraONE was able to use the Tech Data Solution Center for more than a Cisco UCS demonstration.
Andrefski said the client, who he declined to name, had been running much of its operations on HP's Alpha servers, and had decided to replace it with a blade server infrastructure.
Both HP and Cisco blade servers were being considered, with HP initially having the edge because of the client's long-term HP relationship.
"In this case, Cisco was definitely the underdog," Andrefski said. "But after meeting at Tech Data, the client started leaning towards Cisco."
Next: integraONE Intro'd Both HP And Cisco Solutions To Client
Printer-friendly version
Email this CRN article