Printer-friendly version
Email this CRN article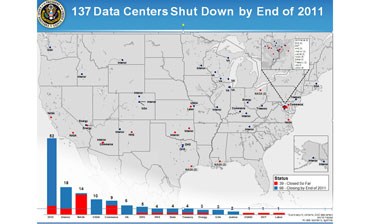 Click image for full-sized view.
The federal government is on the way to save a potential $18.8 billion per year on IT costs by consolidating several hundred data centers, according to a new survey.
According to the survey, which was conducted by MeriTalk, an online community focused on government IT, the federal government could also move ahead considerably on its plans to bring as many services as possible to cloud computing as a result of that consolidation.
However, government agencies are still hampered in their move to consolidate data centers by inconsistent measures of their level of consolidation, MeriTalk said.
The survey was commissioned and underwritten by storage vendor NetApp, but the concepts, questionnaires, survey development, samples, response collecting, tabulating, and analysis were all handled independently by MeriTalk, said Steve O'Keeffe, founder of the organization.
An online survey was taken of 152 Federal IT decision makers, half of whom worked in Federal civilian agencies and half in the Department of Defense or Intelligence agencies, in March of 2011. MeriTalk was looking to measure the progress federal government agencies have made toward their goal of closing 800 data centers by 2015, O'Keeffe said.
The results of the survey come at the same time the Federal government unveiled its list of initial data center closures.
The government on Tuesday unveiled a map of the U.S. showing the 39 data centers it has already closed, and another 98 it expects to close by the end of 2011, making a total of 137 named data centers out of the 800 data centers it hopes to close by 2015.
The consolidation is part of the "25 Point Implementation Plan to Reform Federal Information Technology Management" first unveiled by Vivek Kundra, the U.S. CIO, in December.
Consolidation of those 800 data centers is necessary not only to saving IT spending, but also for finding the funding to move operations to the cloud, O'Keeffe said.
"A lot of money is going into data centers," he said. "We're not going to jump into the cloud for free. But we can fund the move to the cloud with data center consolidation."
According to the MeriTalk survey, 47 percent of respondents said their departments have already consolidated some of their data centers. Of those who have already started consolidating, 72 percent said they started the process prior to 2010, and are already starting to save 20 percent of their total IT budgets.
However, the actual degree of consolidation is subject to interpretation, as federal governments have no standard definition of what a data center really is.
The 800 data centers to be cut are a significant portion of the 2,094 data centers the U.S. Office of Management and Budget says are now supporting federal government operations, O'Keeffe said. However, the OMB only counted 1,100 government data centers a year ago, he said. "The OMB then got more specific, and defined data centers as having 500 square feet or more space," he said.
In the survey, 32 percent of the respondents defined a data center as any room larger than 1,000 square feet and has multiple servers, 30 percent defined it as any room including server closets which are devoted to data processing servers, and 16 percent as any room over 500 square feet which is dedicated to data processing and which meets one of the classifications defined by The Uptime Institute. Another 15 percent said they were not using a consistent definition, while 7 percent said they were unsure.
Next: Across The Board Budget Savings
Printer-friendly version
Email this CRN article