Printer-friendly version
Email this CRN article
Symantec's forecast calls for clouds. The company today introduced Backup Exec 2012 with a complete interface overhaul, along with new editions of its venerable disaster recovery solution for servers that are designed for companies with substantial virtualization or data center functionality in the cloud.
For companies that are all or mostly virtual, Backup Exec V-Ray Edition offers much of the same functionality as prior Backup Exec versions, but with cloud-centric licensing. "For previous versions we charged for every Hyper-V, Linux or VMware host and for every application you wanted to protect," said Jason Fisher, Symantec's director of product management for Backup Exec.
"Now you can buy one V-Ray Edition SKU and have everything you need to protect your virtual environment for the number of sockets you have. It works for both VMware and Hyper-V," he said. Backup Exec 2012 V-Ray Edition starts at $1,695 per processor with no more than six cores and covers anything running virtually, including all Microsoft applications.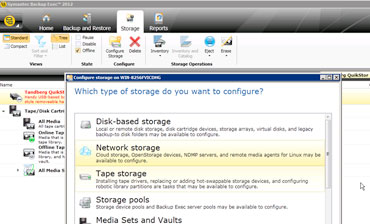 Click image for full-sized view.
For companies that dedicate physical servers in addition to virtual ones, the V-Ray Edition supports separate application agents, too. "They can still use a la carte agents to protect legacy physical machines [running] Exchange, Linux, Oracle, SQL, SharePoint, and all the major back-office apps and file servers are still supported," said Fisher.
Then there's Backup Exec.cloud, which lets solution providers offer Symantec's data centers as their own. "If you're a service provider, this would be [like] a centralized management console for their customers," said Fisher. "And for small-business customers and remote offices, they can have on-premise servers and desktop workstations with backup on Symantec's trusted cloud and not have to mess with on-premise storage."
Unlike Backup Exec 2012, which is just for servers, the .cloud edition also protects workstations and can manage Symantec endpoint protection software. "We want partners that might not have this type of infrastructure to add our data center to their toolset," added Fisher. Protected systems are managed through a Web portal, where solution providers can monitor deployment, backup policies, job status, and recovery directories and files. It lacks only bare-metal recovery. "We do store system state data, but for full-system recovery, you'll have to have an operating environment running first," said Fisher.
Backup Exec for Microsoft SBS
Symantec today also unveiled Backup Exec Small Business Edition, which includes all agents and options necessary for backup of any Microsoft Server and all its applications, roles and Hyper-V guests in a single SKU. List price is $995 per server.
"A small-biz owner who knows nothing about IT can buy this and be protected within minutes," said Fisher. The tool scans the available storage and backup resources on the licensed Windows Server and recommends a backup scenario to best protect server data.
A single license covers any and all Windows Server applications and roles, including Hyper-V and its guests. The Small Business Edition eliminates the requirement to purchase a la carte backup agents for each application (i.e. Exchange, SQL Server, etc.), as is still true of Backup Exec 2012. "This is perfect for people using Microsoft Small Business Server," he said.
For Symantec's three new products -- Backup Exec 2012, V-Ray Edition and .cloud edition -- general availability is expected this spring. Coming later will be the Backup Exec 2012 Cloud DR, a client-side replication agent for VMware (initially) that will store guest OS snapshots in the cloud and enable rapid failover and bare-metal recovery in the event of complete system failure.
For recovery to bare metal, the solution will include bootable ISOs for CD and DVD as well as manual creation of bootable USB drives. Recoverable image formats will include Microsoft's .VHD and VMware's .VMDK, as well as Symantec's own .BKF, which can be located on a local volume, network share or tape/disk devices managed by a Backup Exec server. Fisher said the tool also will support conversion of .VHD and VMDK files from virtual to physical and vice versa.
Printer-friendly version
Email this CRN article