Printer-friendly version
Email this CRN article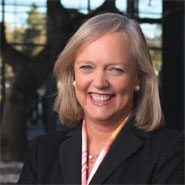 Meg Whitman
Last year at Hewlett-Packard's Global Partner Conference, CEO Meg Whitman talked of bringing the "swagger" back to HP. As it turned out, "stagger" would have been a more apt description. There's no sugarcoating the fact that HP had a disastrous 2012, with layoffs and brain drain; disappointing performance in core businesses; two massive write-downs totaling nearly $17 billion; the Autonomy accounting scandal; and Wall Street's call for a breakup all contributing to the drama.
Whitman now claims the worst is over-for real this time. She says morale is on the rise within HP and claims to have won the hearts and minds of HP employees. And at the Global Partner Conference this year, she's calling on partners to get out and start counteracting the incessant drumbeat of negative sentiment. The way Whitman sees it, who better to stem the tide of negativity than a legion of knowledgeable, highly trained extensions to HP's sales force?
"We've been through a lot, we're coming back strong, but we need partners to invest with us, and to believe," Whitman told CRN in a mid-January interview at HP's Palo Alto, Calif., headquarters. "I recently told a group of channel CEOs, 'If people are not speaking highly of HP, you need to defend us. Because you know what our strategy is, you know how good our product line is, you know our commitment to these businesses, and we need you to evangelize.' "
[Related: 7 Bold HP Proclamations That Don't Tell The Whole Story]
To that end, HP is investing in programs and infrastructure to make it easier to do business with the company. It plans to spend $500 million in the U.S. channel around MDF and $1.5 billion worldwide.
Still, HP-bashing has become something of a sport in IT industry circles. And after 16 months at the helm, Whitman is getting tired of the negativity. Despite all the good things happening at HP-a healthy networking business, a budding cloud portfolio and a solid lineup of new products-she seems puzzled as to why popular opinion remains stubbornly focused on past missteps.
However, Whitman's channel call to arms could fall on deaf ears with some partners who've been cut out of deals and had customers snatched away by over-aggressive HP sales reps. That's been happening with regularity in the past few years, as HP salespeople have taken advantage of the CEO changes, and the leadership vacuum they've created, to run roughshod over the channel. This is causing an erosion of trust among partners, which is problematic for HP because without the channel, Whitman's plan to turn around HP has little chance of succeeding.
"We recognize that things weren't perfect in 2012 and, maybe even in 2011, and we are working hard to make things right," said Whitman.
However, consensus opinion that emerged during the course of discussions CRN had recently with more than 20 HP partners—including some of its largest in the U.S.-is that Whitman must move quickly to stem the erosion of trust and loyalty in the HP channel. Partners that just a few years ago were selling and evangelizing HP's entire product line, from PCs and printers to enterprise hardware and services, told CRN HP is not as strategic to their business as it once was.
And some of those partners are cutting their HP investments and hooking up with other vendors that are coming on strong with their own channel programs and incentives.
"When you have large partners that were previously exclusive to HP but are now selling Cisco, Oracle, Dell and NetApp, you don't have loyalty anymore," one HP partner told CRN.
The sentiment about HP becoming less strategic is not limited to the channel. In Piper Jaffray's fourth-quarter 2012 survey of 135 CIOs of large and midsize companies, just 3 percent of respondents said HP is a "critical and indispensable" part of their IT environment, compared with 45 percent for Microsoft and 16 percent for Oracle, the top two companies in the survey. HP tied for seventh place in the survey. "HP has made little progress in convincing CIOs that they should embrace HP's technology portfolio in a strategic manner," Piper Jaffray said in a research note accompanying the survey.
HP's first step toward mending fences with the channel at the Global Partner Conference will come in the form of revised rules of engagement for its salespeople, but the damage that's been done won't be repaired overnight. While trust and loyalty are tough things to measure, the past couple of Global Partner conferences have lacked the collective enthusiasm that used to be a hallmark of the event. One top HP partner described it this way:
"At HP's partner conference three years ago, I remember Stephen DeWitt [senior vice president of global marketing for HP's Enterprise Group] firing people up with an inspirational address. Partners were excited, they were feeling the channel love, and they were staying the whole week. People were drinking the HP Kool-Aid. It was a 'Band Of Brothers' kind of thing. But there's a different energy now. Now it's just business; it's no longer about partnership with HP," said the source.
NEXT: New Rules To Change Old Behaviors
Printer-friendly version
Email this CRN article