Printer-friendly version
Email this CRN article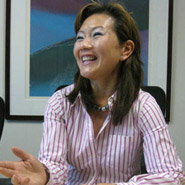 Jane Li
Huawei this week unveiled ICT Nation, an initiative aimed at building a community of technology and channel partners to take advantage of opportunities caused by what it sees as the convergence of ICT, or information and communications technologies.
Should the ICT Nation initiative, which so far has received support from some solution providers but as yet no support from other technology partners, be successful, it could help Huawei gain a foothold in the U.S. IT market.
Joe Asady, CEO of Netfast Communications, a New York-based IT solution provider and Huawei partner, said Huawei's ICT Nation vision combines cloud on the back end and BYOD on the front, something that resonates with customers.
"Huawei has the technology it needs to build a community," Asady said. "But it needs marketing and branding. The Huawei brand needs to become a trusted brand. They need to tell their story. Forty-five of the top 50 carriers worldwide use Huawei, and they have so many awards and patents. Huawei also needs to educate CIOs and CEOs about its ability to help them achieve their business objectives."
[Related: Huawei: We're Still Building Our U.S. Enterprise Business, Channel]
Huawei also unveiled a new member of its CloudEngine series of data center switches with the potential for scaling to a total switching capacity of up to 64 Tbps.
The ICT Nation initiative and switch were officially rolled out at the Interop conference, held this week in Las Vegas.
Jane Li, COO of Huawei Enterprise U.S.A., the Cupertino, Calif.-based subsidiary of China-based telecom and IT giant Huawei, said Huawei has relied on feedback from partners.
"Huawei has a broad product portfolio, but it knows it needs to understand solution requirements," Li said. "We've been studying that for the last couple years, and 2013 is the time we can really leverage what we have learned from partners and take advantage of growth opportunities."
Li said the market is transitioning from a focus on traditional server, storage, networking and security products to solutions that merge information and communications technologies, and Huawei is launching its ICT Nation initiative to build on that transition.
"ICT is not just a Huawei initiative," she said. "We need to rally a community of vendors, partners and CIOs to make this a global initiative."
Huawei is demonstrating a range of BYOD solutions, cloud data center solutions, and software-defined networking (SDN) solutions at Interop.
"For the past few years, the growth of wireless devices and tablets and the need for new infrastructures to manage that growth has been stressful for CIOs," Li said. "But with ICT Nation, everyone will be working together to find the right solutions."
NEXT: Partnering With Huawei Amid U.S. Security Concerns
Printer-friendly version
Email this CRN article