Printer-friendly version
Email this CRN article
Dell: Acquisitions Are The Building Blocks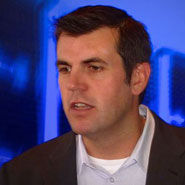 Andy Rhodes, executive director of Dell's converged solutions
Dell may be a relative newcomer to the converged infrastructure space, but the company has caught up quickly thanks to a series of acquisitions made over the past few years.
From EqualLogic to Compellent to Force10 Networks to Quest Software, among others, Dell has purchased more than a dozen companies to upgrade its converged infrastructure portfolio to include storage, networking, software and more.
"If you're going to build a system, you need your own components to build it and write it and optimize it. You have to have compute. That's the central universe," said Andy Rhodes, executive director of Dell's converged solutions. "We didn't own a huge amount of IP so we bought EqualLogic and Compellent. Then that's great, but you need to bring it together through a fabric. We had PowerConnect but that's not enough to shift data traffic, so we bought Force10. Now we have three legs of the stool in core hardware IT. You look at the convergence of those three things and it starts to come together."
The fourth leg of the stool came last November, when Dell acquired Gale Technologies, said Rhodes.
Gale gave Dell, Round Rock, Texas, an infrastructure automation software developer whose solutions help customers focus on converged and enterprise workloads, he said. After Gale, Dell rebranded its converged portfolio to Active Infrastructure from vStart and redoubled efforts to get more business with solution providers and customers.
"We really needed a manager across everything. That was the acquisition of Gale. Gale allows you to go off and deeply virtualize clusters and workloads across storage networking. You can go off and do deployment but configure the hardware in the right sequence," Rhodes said.
John DeRocker, senior vice president of worldwide channels at Stratos Management Systems, a Westlake, Texas-based solution provider, said Dell's converged infrastructure portfolio now stands up to any competitor.
"They have a good shot just because they have best-of-breed across different manufacturers," DeRocker said. "The advantage Dell has is if the customer owns some [Dell] products and part of the portfolio, then it's just a bolt-on with the remainder of the products versus a forklift change. They have a good play."
Michael Butz Sr., president and CEO of UltraLevel, Detroit, was a Dell customer for many years but became a partner after Dell acquired EqualLogic. Since then, many of the acquisitions Dell has made were companies that UltraLevel already was partnering with.
"When they were doing their surge of acquisitions and I would do a keynote, I'd get to our strategic partner slide and joke that it was shrinking because of Dell. We were a Wyse partner. We were a Force10 partner. We were a SonicWall partner," Butz said. "I'd joke that either I'm pretty smart or Michael Dell is pretty stupid because we keep picking the same technology companies out there."
Kidding aside, Butz said Dell's Active Infrastructure solution has helped him win business.
"From PowerEdge servers to SonicWall to Force10 and Powerconnect to EqualLogic and Compellent, we have been able to deliver full data center stacks to our customers and give them a lot of value. In many cases, Dell has the superior product and a lower price," Butz said. "To be quite frank, it's more than we expected."
Looking forward, Butz expects Dell Active Infrastructure to mature and improve.
"It's been labeled version 7.0 but for all intents and purposes, let's face it, it's the first iteration of Gale software with Dell hardware. To me, it's a 1.0 solution, but it's a solid 1.0 solution," Butz said.
"Dell has done an excellent job making it an attractive business model to pursue. We're approached by EMC, IBM, HP all the time.
We compare the opportunity and average potential margins and how they treat deal registration programs and it's not even close," he said.
Dell's Rhodes acknowledges that Active Infrastructure is in a "ramp-up stage" and said Dell is working on solutions that don't require major overhauls by customers.
"What we've found is, as much as customers might like to throw away their legacy equipment, they can't always do that. The move to converged infrastructure isn't always a greenfield deployment. For some customers, they've made decisions and are standardized on NetApp, or they just bought an EMC array. They've got to get ROI but love the thought of a single management system across three entities to deploy services and workloads and applications. The inherent nature of the Gale product allows vast heterogeneous support. We allow customers to protect their legacy and support non-Dell storage and network stacks." — Scott Campbell
NEXT: EMC Making The Point With VSPEX
Printer-friendly version
Email this CRN article