Printer-friendly version
Email this CRN article
HP: Innovation, Stepped-Up Strategy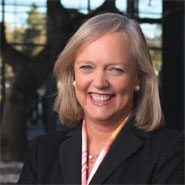 HP CEO Meg Whitman
Kelly Ireland, founder and CEO of CB Technologies, a Westminster, Calif.-based HP enterprise partner, scoffs at the stampede into the converged infrastructure market by HP competitors.
HP, she agrees, pioneered converged infrastructure solutions years ago. But now she sees HP stepping up converged infrastructure research and development to extend its lead with new innovative converged offerings.
That's just one reason why CB Technologies is in the midst of a major HP converged infrastructure offensive, getting new certifications for its engineering teams. Ireland envisions a huge sales opportunity around HP converged infrastructure solutions thanks in large part to HP CEO Meg Whitman's big bet on innovative new technology such as HP's Moonshot servers.
"When Meg came in she recommitted to research and development and innovation," said Ireland. "HP had strayed away from that for a while. Now we are seeing new HP innovation. I think Meg has HP back on track. We are awed by the new products. And we are very optimistic about the HP converged infrastructure sales opportunity."
One sign of HP's stepped-up converged infrastructure push: the creation just four weeks ago of an HP Converged Infrastructure Group with dedicated resources to create converged offerings around big data, social computing and the cloud. The new group is working on "converged application appliances," including systems based on SAP HANA, Apache Hadoop, HP Vertica and HP Cloud System.
Just two weeks ago, HP, Palo Alto, Calif., launched a line of HP prepackaged appliances called AppSystems. AppSystems, according to the company, are based on HP ProLiant servers and combine SAP's HANA in-memory database with SAP's Business Suite ERP applications. The HP AppSystems appliances will be sold through HP channel partners, which can offer services such as data migration and system updates around the devices.
Keith Norbie, principal at Norbie Enterprises, a Minneapolis-based technology consulting firm, said that HP has not gotten the credit it deserves for its converged infrastructure leadership. "HP is underappreciated and undernoticed with its converged infrastructure solutions," he said.
"HP ProLiant is still the top server platform, and the heartbeat of any converged infrastructure solution is a strong server platform. That is the core of converged infrastructure. And don't forget about HP's network and storage leadership. They have done the hard work of pre-integrating those solutions in a way that is as consumable as anyone else's converged infrastructure solutions."
A top executive for a large national HP and Cisco partner, who did not want to be identified, said he sees HP converged infrastructure sales doubling over the next year.
"We are investing the resources to partner with HP on converged infrastructure in the data center," said the executive. "HP is the leader in servers and compute, and the converged infrastructure market is starting to pick up. Three years from now the majority of server sales will be converged infrastructure. That's where the market is going. The fundamentals of how the data center operates are changing with virtualization and disaster recovery. What is converging is the definition of a server, storage device and networking all coming together where you have everything in a single box. That's the way customers want to buy." — Steven Burke
NEXT: IBM: The PureSystem Push
Printer-friendly version
Email this CRN article