Printer-friendly version
Email this CRN article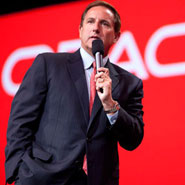 Oracle President Mark Hurd unveils new Dell-Oracle alliance.
Dell on Tuesday surprised solution providers by unveiling a new relationship with Oracle that the companies said will bring Oracle's business-critical software to market on Dell's x86 server platform.
Under the new worldwide alliance, which was officially rolled out during the opening keynotes at the Dell Enterprise Forum, Dell was named a preferred x86 server partner by Oracle, while Oracle is now a preferred enterprise infrastructure partner of Dell.
Oracle President Mark Hurd unveiled the partnership in a video presentation during which he said that his company will work with Dell to deliver integrated hardware and software solutions, with software optimized to run on Dell's x86-based servers.
[Related: Dell Enterprise Forum: VARs Look For Future Plans, Wish Michael Dell Was Coming ]
One Dell solution provider who requested anonymity said, "The last thing I ever expected at this event was to see Mark Hurd's face."
While Hurd did not say the Dell-Oracle solutions would be equivalent to Oracle engineered systems, which are appliance-like offerings in which Oracle server and storage technology is sold as a complete solution integrated with specific Oracle applications.
However, he did reference Oracle engineered systems when he said that Oracle does all the hard work related to integration.
The new Dell-Oracle alliance is a way to expand the business for both companies, Hurd said in the video.
"It enables customers to get business-critical solutions on x86 architecture. ... Customers get integrated solutions from Dell, backed up by support from Oracle," he said.
Left unsaid by both Dell and Oracle executives is the close ties that Oracle had in the past with Hewlett-Packard. HP, Dell's arch-rival in the x86 server business, was at one time Oracle's biggest hardware partner, and the two had a very profitable relationship.
However, a dispute between the former partners resulted in a series of lawsuits stemming from Oracle's decision to suspend all software development on the Intel Itanium microprocessor, citing what it called indications from Intel management that it is focusing on the x86 processor line and that Itanium was nearing the end of its life.
Marius Haas, president of enterprise solutions for Dell, also said the partnership will result in an expanded customer base for both his company and Oracle.
"We're bringing together engineered systems that bring great value to customers. ... We're going to both aggressively bring great solutions to you, the customer."
NEXT: Channel Interested In Dell-Oracle Relationship, But Needs Details
Printer-friendly version
Email this CRN article