Printer-friendly version
Email this CRN article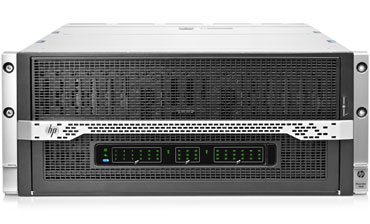 HP Project Moonshot Server
Hewlett-Packard this week introduced new servers for the SMB market including an entry-level model a top HP executive called the perfect gift for graduates looking to start their careers as entrepreneurs.
HP also updated attendees of this week's HP Discover conference in Las Vegas on its latest Unix and big data servers, as well as provided a closer look at HP's upcoming Moonshot modular server line.
David Donatelli, executive vice president and general manager of HP's Enterprise Group, introduced the new servers, which included a new version of HP's MicroServer line based on the company's ProLiant Generation 8 (Gen8) platform.
[Related: HP To Bundle Google Apps For Business: Bad For Microsoft, Good For Partners]
Donatelli touted the HP ProLiant MicroServer Gen8 as a complete data center for small businesses complete with compute, storage and networking capabilities.
"We also think that, since this is graduation season, you can buy it for your graduates," he said. "Please do so."
Donatelli also called the HP ProLiant MicroServer Gen8 "awesome" for younger people, especially with a starting price of about $450.
"Think of it as 'baby's first data center,'" he said. "So for the parents out there, they can buy baby's first data center and hope [their kids] go out and become an entrepreneur, make a billion dollars, and pay you back for all that college education money you just spent."
While HP might find a good market for the home and college set for the HP ProLiant MicroServer Gen8, it will be less welcome in the small business market toward which it is targeted, HP channel partners said.
It could be a tough SMB sale, said Fred Moore, managing partner at Moore Computing, a St. Louis-based HP SMB partner who's typical customer has about 40 users on a network.
"We've seen the older MicroServers," Moore said. "If you have a disk failover, it can be costly. The older MicroServers used SATA drives, which are not that good for small businesses. And the performance was not that good."
Performance for the Gen8 version for small businesses could be an issue. The MicroServer features a dual-core Celeron processor with 2 MB of cache and from 2 GB to 16 GB of memory.
NEXT: Judging The Market For The MicroServer Gen8
Printer-friendly version
Email this CRN article