Printer-friendly version
Email this CRN article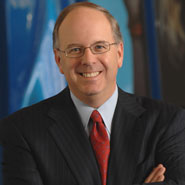 Dave Donatelli
Hewlett-Packard Enterprise Group Executive Vice President Dave Donatelli said the computer giant already is seeing "encouraging early results" from dramatic changes made to give partners the pricing firepower they need to win against Dell.
"We are taking a lot of action," said Donatelli in an exclusive interview with CRN at HP's Discover conference in Las Vegas, where the company introduced new HP ProLiant servers. "We have seen encouraging early results. And at the same time, we are going to continue to look where else we should take action in order to continue to improve."
HP released a number of the new tools in just the past two weeks and has put in place a "very detailed road map" of additional offerings aimed at improving HP server competitiveness, he said.
[Related: HP Partners: Excited About Moonshot Servers, Not So Much MicroServer Gen8 Servers]
"We actually just did an internal review just the other day on this, and you'll see things like quoting [tools], pricing [tools] -- all the things that will lead to speed and agility in terms of selling servers have improved," he said. "We believe we are going to make significant improvement over the short term."
HP partners said they already are seeing the impact of HP's aggressive moves to stem the server share gains made by rival Dell in the first quarter.
Chris Case, president and CEO of Sequel Data Systems, an HP enterprise partner based in Austin, Texas, said he has seen HP get more aggressive in helping him win deals with quick pricing actions. Just this week, Case said he had HP get more competitive on pricing in a sizable server-storage deal.
"We're looking to get into the account and HP showed it was willing to do what it takes to win," Case said. "Already we can tell with this opportunity that HP is making the commitment to get us to where we need to be to win against Dell. It's a significant deal and Dell is being very aggressive. HP is providing the discount firepower. Now it's up to us to win it."
Sequel Data Systems also has seen HP put changes in place that have dramatically reduced how long it takes to get a pricing action in a competitive situation. "We don't have to escalate as many deals [to get HP pricing approval]," he said. "It's great to see HP being more competitive against Dell. We lost a deal last quarter where we had a perfect opportunity to unseat Dell and couldn't get where we needed to be on a server-storage deal."
NEXT: Donatelli Credits HP CEO For Taking Action
Printer-friendly version
Email this CRN article