Printer-friendly version
Email this CRN article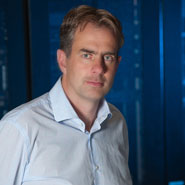 Robert Offley
Hosting and data center provider CentriLogic is continuing its expansion with the acquisition this week of one of its peers, Dacentec.
CentriLogic, with dual headquarters in Toronto and Rochester, N.Y., acquired the 23,000-square-foot, purpose-built data center and hired the staff as part of its plan to expand geographically while adding disaster recovery capabilities for existing customers, said Robert Offley, CentriLogic president and CEO.
Location was a key reason for acquiring Dacentec's Lenoir, N.C.-based data center operations, Offley said.
"Because we have a lot of customers who operate in different geographies, or who have political considerations, we've found a need to expand geographically," Offley said. "So we've added a data center in North Carolina by acquiring Dacentec."
[Related: CentriLogic Acquires App, Management Services Firm The Capris Group]
"North Carolina is important for us," he said. "It's right on the data center hub where companies like Facebook and Apple have data centers. There's low-cost power and fibre, and safety from weather and disasters."
Just as important, it's several hundred miles away from CentriLogic's two current U.S.-based data centers in Rochester and Buffalo, N.Y.
"We have an active-active architecture between Rochester and Buffalo," Offley said. "By adding a North Carolina data center, we get a disaster recovery presence well over 300 km away. Some customers are happy with our active-active architecture stretching over 70 miles. But there's a subset of customers who want the longer distance. We're already seeing customers looking at being in all three data centers."
CentriLogic did not acquire the complete Dacentec. The company remains an independent developer of solutions for data center power efficiency and remote management.
With the acquisition, CentriLogic currently has eight data centers, including three in Canada, three in the U.S., one in Hong Kong and one in the U.K. Offley said the company is currently looking for options to expand its European presence.
This is not CentriLogic's first acquisition, and it is not likely to be its last.
CentriLogic in March acquired The Capris Group, a provider of managed hosting and IT services, in an all-cash deal worth $9 million.
With that acquisition, CentriLogic created a new business unit for delivering application and platform management services while adding Mississauga, Ontario-based Capris' data center and disaster recovery capabilities.
CentriLogic provides a range of co-location services, managed services, virtualized data center services and cloud services to customers, Offley said.
"Customers like our model," he said. "We give them a variety of solutions along with the ability to migrate to the cloud when they're ready. But the cloud is not the be-all solution for all customers."
The deal to acquire Dacentec closed Wednesday. Offley declined to provide financial details.
PUBLISHED ON JUNE 13, 2013
Printer-friendly version
Email this CRN article