Printer-friendly version
Email this CRN article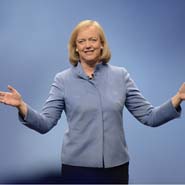 Meg Whitman
Apple is one of several large-scale Internet service providers "very interested" in Hewlett-Packard's Project Moonshot servers, according to HP's top executive.
While HP CEO Meg Whitman declined to confirm or deny reports from a channel source that Apple is planning on using HP Project Moonshot servers to run its iTunes service, she did confirm to CRN that several large scale internet service providers, including Apple, are all "very interested" in looking at the high-density, low-power-consumption HP Project Moonshot servers
[Related: 15 Questions For HP CEO Meg Whitman]
"We have a lot of interest from a lot of customers who are doing big scale-out computing," said Whitman in response to a question on whether Apple is planning on using Moonshot for the Apple iTunes service. "And just go right through the big service providers. When I say service providers I don't mean telcos. Facebook actually bought quite a bit of stuff from HP. Baidu, Tencent, Apple. That whole list of very big scale-out computing companies, are all very interested in this. "
While there has been nothing official regarding Apple's use of HP Moonshot servers, it is something that would not surprise Rich Baldwin, CIO and chief strategy officer of Nth Generation Computing, a San Diego-based solution provider and HP partner.
Whitman, during her Tuesday keynote address at his company's Nth Symposium, told customers that the hp.com website currently runs on a handful of Moonshot servers, which together use the same amount of power as 12 60-watt light bulbs.
"Meg talked about running a data center on the power used by 12 60-watt light bulbs," he said. "Apple wants to be a 'green' company. And nobody does it as well as HP."
HP's Project Moonshot servers are a truly "green" solution, Baldwin said.
The Moonshot servers feature a modular design in which each module, or cartridge, is a server unto itself. The high-density Moonshot chassis can hold up to 45 server cartridges in 4.3U of rack space, or 450 Intel Atom S1200 "Centerton" processor-based servers in a full rack.
Future versions of the Moonshot servers will feature other Intel, AMD, and ARM processors, with a quad-processor design pushing density even higher. These new versions are expected to be officially unveiled in October.
Apple did not respond to a request for more information by publication time.
PUBLISHED JULY 31, 2013
Printer-friendly version
Email this CRN article