Printer-friendly version
Email this CRN article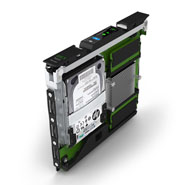 HP Moonshot ProLiant m300 server cartridge
Hewlett-Packard on Wednesday unveiled a new server cartridge for its Moonshot high-density server line based on Intel's new Atom Avoton 8-core processor, offering customers the opportunity to build a rack of servers with 3,600 cores of compute power.
The new HP ProLiant m300 server cartridge for the HP Moonshot server features an Atom Avoton processor with eight cores running at 2.4 GHz, one hard drive with capacity of up to 1 TB, and 32 GBs of memory, said John Gromala, senior director for hyperscale server product management at HP.
Up to 45 cartridges can fit into a single HP Moonshot server chassis to form a complete system filling 10U of space in a rack, Gromala said. That gives each system up to 360 cores, 1.4 TBs of memory and 45 TBs of storage, he said.
[Related: HP CTO Lays Out HP's Vision For Future Computer Architecture]
"Multiply those numbers by 10, and that's a lot of power in a rack," he said.
"It is a lot of power, indeed," said Rich Baldwin, CIO and chief strategy officer at Nth Generation Computing, a San Diego-based solution provider and long-term HP partner.
"That's 3,600 cores in a rack," Baldwin said. "That's phenomenal compute power. This is where people sit up and really start looking at Moonshot."
A lot of large companies, including web companies, are still focused on rack-mount servers, Baldwin said. A typical 1U rack server may have 8 cores for a total of 336 cores per rack, or about one-tenth the density of the new Moonshot. "In a data center or colo, if a company can shrink five or 10 cabinets into one, that's pretty significant," he said.
Customers are certainly looking at the possibilities, Baldwin said.
"At our Nth Symposium users conference, we noticed several of our larger customers looking the Moonshot over," he said. "These are universities and school systems with thousands of users."
The original HP Moonshot servers were based on Intel's Atom S1200 processors, code-named Centerton.
The Atom Centerton-based server cartridges were targeted at static web applications and dedicated hosting workloads, Gromala said.
NEXT: Looking Forward To Future HP Moonshot Server Cartridges
Printer-friendly version
Email this CRN article