Printer-friendly version
Email this CRN article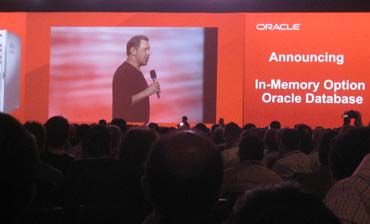 Larry Ellison
Oracle Sunday opened its annual Oracle OpenWorld conference with the introduction of several new hardware systems highlighted by an in-memory database technology it claims improves database query speed by 100 times with no changes to the applications.
The company also unveiled a high-performance engineered system based on its in-memory solution, a new high-speed backup and recovery solution specifically targeting databases from any vendor, and the third new SPARC server processor introduced this calendar year.
Oracle CEO Larry Ellison, who appeared on stage late Sunday after watching Oracle Team USA win two straight races in the Americas Cup, said the new high-performance solutions fit his vision of the data center of the future.
[Related: Converged Infrastructure Bets Are In: Where Are They Paying Off?]
That vision depends on specialized machines that offer the best cost/performance ratio, increase reliability and security, and are easy to use, Ellison said.
"You spend less buying it," he said. "You use less floor space to hold it. You use less electricity to run it. And it's all pretested, so it's much more reliable."
Those specialized machines to which Ellison referred are the Oracle engineered systems that combine Oracle's database, business analytics or other software applications with a hardware line that came with Oracle's 2010 acquisition of Sun Microsystems.
Since then, Oracle has optimized its software and hardware to work with each other in a series of tightly integrated converged infrastructure solutions.
Ellison did not disappoint with his introduction of the new Oracle engineered system and other data center solutions, said Kent Kellough, western area vice president at Advanced Systems Group, a Denver-based solution provider and Oracle partner.
"When Oracle bought Sun, Larry said Oracle would develop the technology to run Oracle software better and faster than anything else," Kellough said. "Since then, he's been laser-focused on running Oracle faster."
Ellison said Oracle's new in-memory database technology, which is available as an option for the company's Exadata database engineered system, takes a new approach to how queries are done on databases.
NEXT: How The Oracle In-Memory Database Technology Works
Printer-friendly version
Email this CRN article