Printer-friendly version
Email this CRN article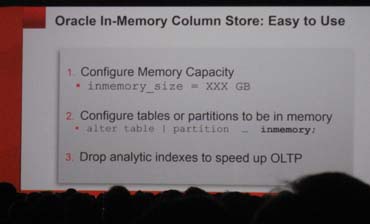 Oracle claims in-memory database technology is easy to use
Traditional database software stores data in a row format in which each record, such as a single transaction, is stored as a row of data. Another method calls for data to be stored in columns, which Ellison said makes databases faster by providing low overhead and quick access to a "column" or variable over many rows of data.
Oracle's in-memory database technology keeps both row and column formats in memory for fast updating of data and for high-speed queries. This is done by building reports based on the data that are stored as objects for high-speed queries without the need to update up to 20 different indexes each time an update to a transaction is stored.
Using the Oracle in-memory database technology, which is now built into the Exadata database engineered system, is easy, Ellison said. A user merely has to tell the system how many GBs of memory to allocate to the database and configure the tables and partitions.
"Flip a switch, and all your applications run much faster," he said.
No other changes need to be made to the system or the application, Ellison said. The solution even works in scale-out systems such as Oracle RAC, as well as any third-party applications, he said.
"Everything that works today works faster with the in-memory option turned on," he said.
Furthermore, Ellison said, the entire database does not need to be run in-memory. The Oracle Exadata system has hierarchical memory capability that can automatically move data between memory, flash storage and disk depending on access patterns, he said.
Ellison also unveiled the M6-32 Big Memory Machine, a solution based on the Oracle in-memory database technology. The M6-32 Big Memory Machine is a hardware platform featuring 32 TBs of DRAM, Oracle's new SPARC M6 processor, and a silicon-based interconnect that provides 3-TB-per-second bandwidth.
"It's the fastest machine available for in-memory databases, he said.
NEXT: New In-Memory Database Appliances, Processors, Database Backup
Printer-friendly version
Email this CRN article