Printer-friendly version
Email this CRN article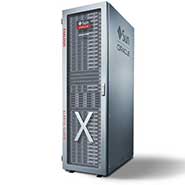 Oracle Exadata
Oracle, which has taken a lot of heat for its falling hardware sales, may have the last laugh as the company remains the top vendor of converged infrastructure systems, according to a new IDC report.
IDC this week reported that second quarter 2013 revenue for the worldwide integrated infrastructure and platform market grew 50.2 percent over revenue for second quarter 2012 to reach $1.3 billion.
"Integrated infrastructure and platform," IDC's term for what is more commonly referred to as converged infrastructure, was defined by the analyst firm as "pre-integrated, vendor-certified systems containing server hardware, disk storage systems, networking equipment, and basic element/systems management software." Solutions missing any one of these components were not included in the survey, IDC wrote in the report.
[Related: Converged Infrastructure Bets Are In: Where Are They Paying Off?]
IDC measures converged infrastructure in two ways.
The first is what the analyst firm called integrated infrastructure, which includes the hardware pre-integrated with packaged software. This part of the market saw total sales of $539.4 million, up 21.2 percent over the second quarter of 2012.
Oracle, with its Exadata and other Exa-related appliances, was by far the largest supplier in this category, with second quarter 2013 revenue of $306 million, up 39 percent over the same period as last year. IDC said that gave Oracle a 56.7-percent share of this market segment.
The second is integrated infrastructure systems, which are designed for general-purpose, distributed workloads. IDC said sales for this segment reached $775.7 million, up 80.3 percent over last year.
Leading this segment in the second quarter is the FlexPod alliance of Cisco and NetApp with sales of $203 million, up 47 percent over the same period last year. It was followed by VCE, a joint venture of Cisco, EMC and VMware, which saw its revenue rise 35 percent to $176 million.
Following those three were the "others" category, which included such competitors as Hewlett-Packard's Converged Infrastructure, the VSPEX reference architecture from Cisco and EMC, Dell's Active Infrastructure, and IBM Flex Systems.
Kent Kellough, western area vice president at Advanced Systems Group, a Denver-based solution provider and partner to Oracle and other converged infrastructure providers, said he is not surprised to see this market growing so quickly.
"It's absolutely growing fast," Kellough said. "All customers are talking about converged infrastructure, or engineered systems, or whatever vendors call it. The majority of our customers are still running on the distributed server model but are looking at going into converged infrastructure.
NEXT: Cloud A Driver For Converged Infrastructure Sales
Printer-friendly version
Email this CRN article